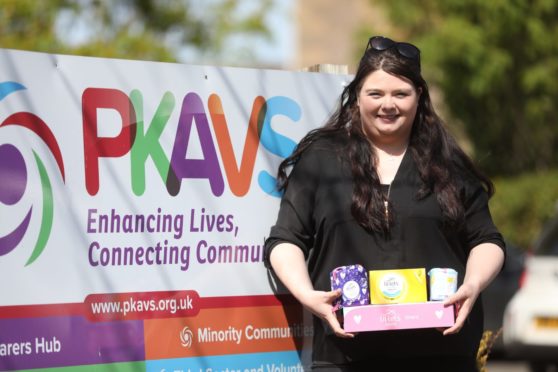 A Perthshire charity has expanded its Tampon Taxi initiative to provide sanitary products throughout the whole of Perth and Kinross.
PKAVS' Tampon Taxi began in Perth in March before expanding to Crieff, Blairgowrie and Kinross a month later.
Funding of around £10,000 awarded to the initiative in June has enabled the expansion and allowed it to provide a wider range of sanitary products.
PKAVS Minority Communities Hub team leader Jenni Keenan said the expansion accommodates for personal choice.
She said: "The scheme is open to anyone in the local authority area. In terms of the products available, we started out back in March with the essentials – day and night single use pads, one brand of tampons and a range of teen pads.
"Since then, we have received some reusable options from Fareshare, but this additional funding has allowed us to really broaden out what we can offer, putting the emphasis on individual choice.
"We really believe that individuals should have easy access to the products which are right for them."
She added: "Thanks to the funding, we can now offer four different styles of menstrual cup to allow those who would like to try one some options based on their own needs.
"We have also expanded the reusable pads available, so that we can offer pads for sensitive skin, smaller pads for teens, and reusable liners."
The Tampon Taxi can also deliver sanitary products by mail to those in need who live in more remote areas.
Ms Keenan says locals' responses to the initiative have been "really positive" so far, with an increase in the number of orders in recent weeks.
She said: "It's been important to us that the provision we offer is universal so there are no barriers to asking for products.
"I think when people first hear about a home delivery service for period products, it gives them a wee laugh, but those who've used the service tell us it's a real lifeline to them.
"But no one should need to be worried about getting hold of period products, and we're proud to play a role in making sure folk have access to what they need."