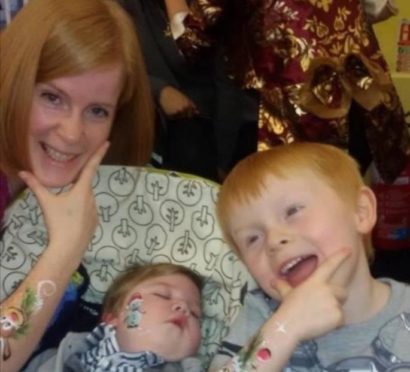 Kinross-based charity Children's Hospices Across Scotland (CHAS) has launched its biggest-ever fundraising appeal, urging Scots to support dying children and their families this Christmas.
Throughout the pandemic, CHAS has had to dramatically transform the way in which it operates.
In March, the charity launched the first virtual children's hospice, while Rachel House in Kinross and Robin House in Balloch continue to provide end of life care.
CHAS at Home nurses have never been in greater demand, supporting families across Scotland who are having to self-isolate or stay at home.
Through its virtual hospice, CHAS families are offered extensive support by phone and video on clinical guidance, financial advice and bereavement support.
The charity's family support teams also offer interactive activities, art clubs, storytelling and friendship calls to children and parents.
Fundraising and communications director Iain McAndrew said: "This campaign marks the biggest we've ever launched and given the challenges of this year, one of the most important.
"The pandemic has seen our income decrease, with so many of our traditional fundraising activities cancelled, whilst the need for our services is increasing.
"We've had to adapt our services and adapt fast. None of this would have been possible without our supporters who give love and strength to those in greatest need.
"This Christmas, we are calling on everyone who can to support Scotland's most vulnerable children and help keep the joy alive even in the face of death."
Recent research shows there over 16,700 babies, children and young people in Scotland living with a life-shortening condition.
Amongst the families who have benefitted from CHAS's virtual service are the parents of Jaxon Stars.
Jaxon, from Aberdeen, was born just two days before Christmas in 2016 with a rare form of epilepsy called Otahara Syndrome.
His mum Lisa said: "As soon as Jaxon was born, the joy I felt quickly turned to fear. Instead of spending his first Christmas at home with his brother Antony, my beautiful baby spent the first four months of his short life in hospital. Thankfully, this was where CHAS stepped in.
"In November 2017, Jaxon became very unwell. Thankfully, with CHAS just a phone call away, he could spend Christmas at home and not in hospital.
"That Christmas with Jaxon was just magical."
Jaxon died on 9 February 2018, aged just 13 months old.
"I was heartbroken but so glad to be at Rachel House when Jaxon died," Lisa said.
"We were among family. They understood my heartache and helped me find strength to pick myself back up again.
"But there are still so many families like mine, facing the death of their child alone. I can't imagine how desperately difficult that must be.
"My baby Jaxon was the most special Christmas gift imaginable and when the time came to let him go, CHAS made sure I wasn't alone."