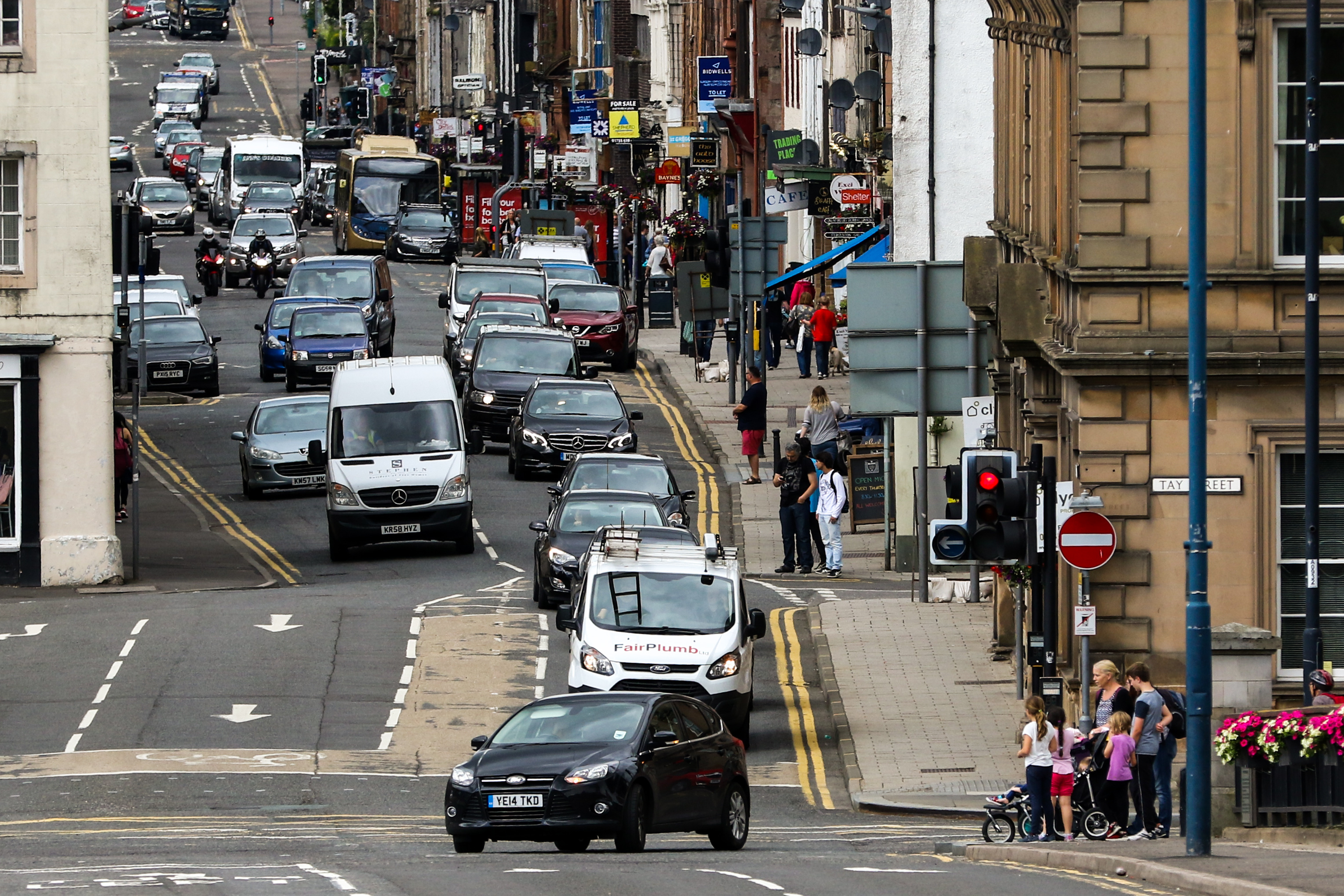 A councillor has urged motorists to pay more attention following a series of near misses in Perth city centre, including cars being driven the wrong way up a busy one-way street.
Several local residents have contacted The Courier to express their anger at these incidents, which saw a car turn into South Street from Tay Street and drive almost up to the Salutation Hotel, despite it clearly being marked as 'no entry.'
It was initially mooted by some motorists that a new temporary traffic system which has been rolled out for parts of the town, and which takes in the Watergate, the High Street and George Street, was to blame for the confusion.
Jim Scobie, 44, of Perth, said he feels the road changes have caused a "lot of chaos."
"I think some motorists have panicked due to the new road signs and don't quite know where to go," he said.
"Too many cars are driving too fast down the Watergate and you even have the scenario outside Breizh restaurant where cars are allowed to travel both ways, which is an accident waiting to happen.
"I saw a car drive up South Street last Wednesday but fortunately he reversed just past the Sheriff Court. But another car turned into South Street from Tay Street and drove almost as far the Salutation Hotel despite getting 'flashed' at and warned by other traffic.
"I feel the new traffic system has caused a lot of chaos."
However, Councillor Peter Barrett said he feels the recent incidents are caused by nothing more than "bad driving."
"It strikes me that the issue is poor/dangerous driving behaviour not the signage," he said.
"Some drivers need to take far more care and pay proper attention to the existing road markings, traffic signals and diversion signs. There is a 'No Right turn' sign on the traffic lights and no-entry signs on South Street.
"The southbound Tay Street road lanes are clearly marked with arrows for turning left onto the Queen's Bridge and straight on to Tay Street. The diversion signs then direct motorists into Canal Street."
And the councillor continued: "Anyone turning right on to South Street is driving without due care and attention, or driving recklessly, risking a head-on collision with innocent motorists. I will be contacting the police to ask them to investigate whether there is CCTV footage and to press charges where the vehicles can be identified."
Inspector Kevin Chase, of Police Scotland in Perth, confirmed there had been no correspondence from the public with regard to any incidents in the streets concerned.
And a spokesperson for Perth and Kinross Council added: "The work taking place in Perth city centre this summer is aimed at growing our cultural quarter and improving the accessibility of city streets and buildings for all users.
"This work is part of Perth and Kinross Council's on-going commitment to invest in the public realm. It involves an upgrade of the existing lower High Street using high quality material and street furniture providing a better space for vehicles and pedestrians.
"The work is being phased to maintain access to our shops, restaurants and pubs throughout the duration of the works. However, as with any major improvement work there will be some disruption and inconvenience due to temporary road closures and diversions.
"Careful consideration is being given to the diversion signage which will be in place throughout the works. The works will enable environmental improvements to be made to the section of High Street between Tay Street and George Street and create a continuous streetscape linking the city centre to the riverside."