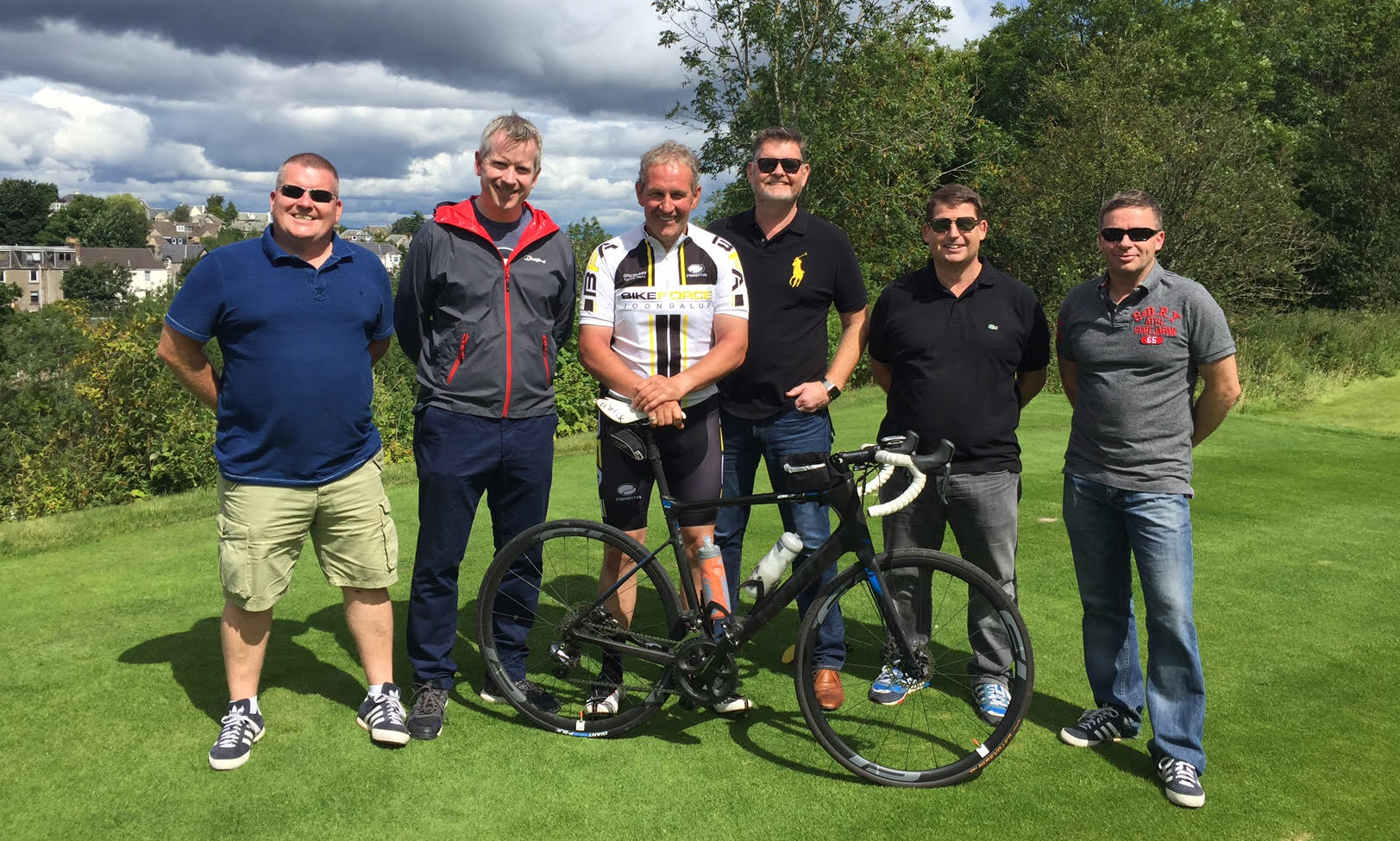 Perth joiner Grant Beveridge has raised more than £4000 for two cancer charities with a gruelling 24-hour cycle challenge.
And donations are still flowing in for Myeloma UK and Pancreatic Cancer Scotland from the big-hearted Big County business community.
Grant clocked-up 429km and climbed more than three times the height of Ben Nevis on Perthshire roads and was joined for spells by friends and company boss Athole McDonald, who is battling bone cancer.
Keen cyclist Grant admitted: "It was hard going at times but it was great to have support for sections along the way.
"When Athole was diagnosed I decided to raise funds for Myeloma UK and my girlfriend Carolyn's brother Scott passed away a few years ago from pancreatic cancer. By the time he was diagnosed it was too late. Other forms of cancer seem to have a much higher profile.
"I'm 46 now and it takes a bit longer to recover. But when the going got tough I just reminded myself folk with cancer and their families struggle every day of the week.
"I wasn't quite with it at the end. I was physically, emotionally and mentally drained. But I had a pint and jumped into an ice bath and had a massage to revive me.
"I did a lot of charity cycles when I lived in Australia for five years and fancied doing one here.  We raised money for a childrens' cancer charity with a three day ride from Perth WA to Busselton. One day the computer read 50 degrees. So it was a bit milder here.
"During the night I decided to avoid the potholes by looping Inveralmond. But I actually prefer cycling here to Australia. The scenery is better and the drivers are more polite."
The challenge revolved around Craigie Hill Golf Club, where Carlolyn and supporters generated additional money by selling home-made cakes to golfers.
Life-long pal and Perth-based Kilmac managing director Athole, 47 – the captain of Craigie Hill GC – welcomed Grant's fundraising drive.
Despite undergoing chemotherapy twice a week at Perth Royal Infirmary, the father of two teamed-up with Grant for an early morning circuit.
Athole, married to Kim with children Brook, 12, and Lee, 9, said: "I hadn't even heard of myeloma before the diagnosis earlier this year. Most people are in the same boat. So it is great that Grant took on this challenge to raise the profile.
"I'm young to get it. You don't get a cured label but you can get it into remission.
"In attacking the myeloma, the chemo also attacks the white and red blood cells. Your immune system gets nailed and there are obviously risks with that.
"Due to the chemo I am now anaemic, my muscles get exhausted and I am on regular transfusions.
"Before being diagnosed my energy levels were dropping away, I was drinking a huge amount of water at night and going to the loo a lot. Something wasn't right.
"I had blood tests and they showed my kidneys were only operating at 25%. In my case it turned out the myeloma had attacked the kidneys. I had put it down to back pain and it could have been festering away for months.
"But in a way I was lucky with my diagnosis because it can attack the bones and eat away at them.
"Obviously I have to take the medical advice on board and the staff at PRI have been absolutely brilliant. But I am determined to carry on with my life and wherever possible it's business as usual. I'm not putting life on hold."
Donations can be made to Myeloma UK at www.justgiving.com/Grant-Beveridge2 and to Pancreatic Cancer Scotland at www.justgiving.com/Grant-Beveridge1