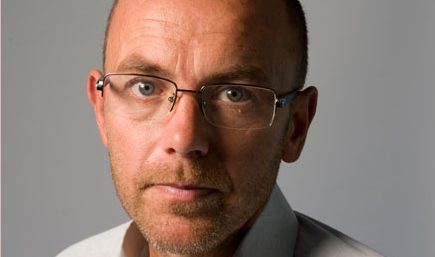 Designer and entrepreneur Wayne Hemingway MBE has been appointed to the body tasked with driving Perth's future growth.
The Red or Dead tycoon will be a technical advisor to the Perth City Development Board.
Mr Hemingway has previously advised the board on the development of the Perth City Plan.
He is currently working with the council and the Scottish Government as part of the Year of Architecture Innovation and Design Promoting architectural guidance, placemaking, local investment and cultural development.
A council statement announcing the appointment stated "Wayne has a diverse and extremely experienced background that can be utilised to implementing the ambitions and plans of both the council and city development board."
The statement revealed he will provide advice and guidance in areas such as procurement and review of design services in respect of public realm and conversion and development of buildings and reviewing management proposals in respect of use of space and buildings.
Councillor Ian Miller, leader of Perth and Kinross Council, said: "I am very pleased to welcome Wayne to this new role and look forward to hearing the ideas he will bring to the table.
"He has considerable expertise in respect of previous projects he has worked on supporting urban regeneration in other cities and towns, which is something we can only benefit from.
"We have a number of ambitions we aim to take forward in the very near future and by having Wayne working exclusively for us I believe that we will be able to not only meet but exceed these aspirations.
"Wayne is very popular and in demand and by having him on board we can really push forward our agenda for change and improvement in new and exciting ways."
Keith Fergie, Chair of the Perth Traders Association, said: "We are fully supportive of the bold and innovative appointment of Mr Hemingway and hope this will greatly assist with the Perth City of Culture bid.
"The Perth Traders Association is working closely with Perth and Kinross Council, the Perth City Development Board and Perthshire Chamber of Commerce to hopefully ensure the bid is successful.
"A successful bid would be a massive positive boost for Perth and the surrounding areas."
A global success story
Wayne Hemingway shot to fame in the 90s with his fashion label Red or Dead and numerous television appearances at the height of Britpop.
Alongside his partner, Gerardine, he buil it into a globally-recognised brand befroe selling it in a multi-million pound deal.
In 1999, Wayne and Gerardine embarked on a new venture — HemingwayDesign.
He was born in 1961 and grew up in Morcambe.
He has a degree in Geography and Town Planning from University College in London and is on the Design Council Trustee Board and the Design Council CABE Committee.
He was awarded an MBE in the Queen's Birthday Honours list of 2006.
He is also a Professor in the Built Environment Department of Northumbria University, a Doctor of Design at Wolverhampton, Lancaster and Stafford, and a Fellow of Blackburn College and Regents University.
A writer for architectural and housing publications and a TV design commentator, Mr Hemingway also judges international design competitions, including the regeneration of Byker in Newcastle and Salford in Greater Manchester, the Royal Institute of British Architects Stirling Prize and Europan.
He holds talks on housing, urban design, education and the creative sector.