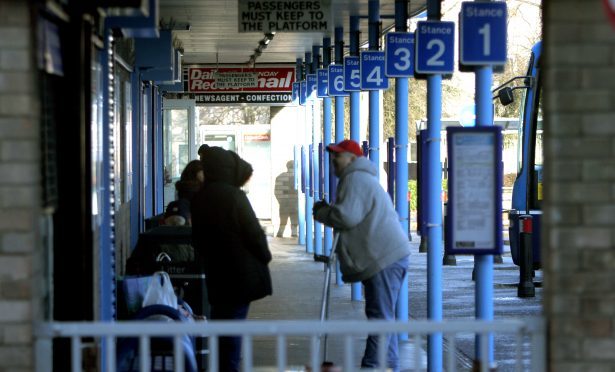 Perth's much maligned bus station could get a major overhaul as part of the bid for City of Culture status.
Perth and Kinross Council has been urged to secure Scottish Government funding for a new "integrated transport hub" in time for 2021.
Such is the deterioration of the existing bus station that is has been likened to an 1950s eastern European housing estate.
It is anticipated the new complex would merge with the nearby train station, offering a one-stop location for public transport.
Councillors called for negotiations with Scottish ministers to get going if Perth emerges as the only Scottish contender for the City of Culture crown.
So far, Paisley is only other entrant from north of the border.
The council has also agreed to boost the budget for the Perth2021 campaign by an extra £150,000 to £400,000.
The money will be partly used to employ two people to help spearhead the drive and work on securing extra financial support.
Highland Perthshire councillor Ian Campbell, who called for Scottish Government aid for a new transport complex, said: "If we are expecting national and international visitors to come to Perth and Perthshire to view our cultural offering, then we really need to create the right impression from the minute they arrive.
"A new transport hub will also enable visitors to get out and see the other areas of Perthshire that they may miss.
"After all, the Scottish Government quite rightly helped the development of the V&A in Dundee, so here is an opportunity to help improve the Perthshire offering as well. Just think what that could do for the economy of Tayside as a whole."
Almond and Earn councillor Alan Livingstone added: "We must minimise things that prevent people coming to the area. One of these is our city transport hub, that has more in common with a 1950s eastern European housing scheme.
"A modern city offering modern attractions needs a modern transport hub. The lack of it will hold Perth back, maybe forever."
Council leader Ian Miller welcomed Mr Campbell's call for a transport hub which he said was already part of the Perth City Plan.
He added: "Bidding for City of Culture is only one strand of the major transformation we are embarking on which will position Perth as one of the major cultural destinations in the country.
"Competition for City of Culture will be fierce, but this process isn't just about winning. It's also a catalyst for the wider transformation that we want to achieve. It's about expanding participation in culture: making it part of everyday life, for the benefit of the many, not the few.
"If we are serious about being successful with our bid, then we need to make sure it is properly resourced. I believe that whether we win or lose, the investment proposed will ultimately be money well spent."
A win for Perth could mean a £60 million boost to the local economy. Council bosses have been warned to prepare for a major fund-raising drive to pay for a 365 day programme of arts and entertainment.