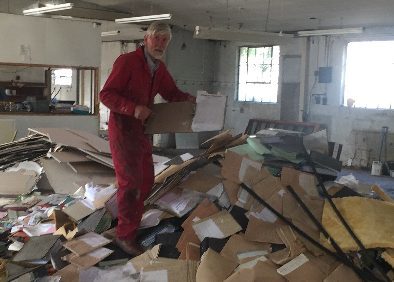 A fascinating "lost" archive which could be of national significance has been unearthed in a Perthshire attic.
Culross the printers, which was established in Coupar Angus in 1835, was a fixture in the town for more than 170 years.
Following a disastrous fire in 1938 the company moved to custom-built premises in Queen Street but 10 years ago the main office block and company record store was sold off for housing and most of the records were dumped into a large skip.
The company ceased trading late in 2012 and with this in mind, local historian and chairman of Coupar Angus and District Heritage Association Joe Richards  thought that the chances of finding any historically interesting material was remote .
However, thanks to a tip-off from the new owner of the premises , Mike Johnstone of MJV Ventilation, an amazing discovery was made.
In the long forgotten attic of the building Mr Richards came across the Culross archive — 30 boxes of unique material, "each one more interesting than the last".
"They were full of things, wonderful things" said Mr Richards, 66, in a reference to Tutankamun's treasure..
There were company scrap books and photographs, hundreds of rolls of film and examples of the company's work from the 1930s to 1970s.
Mr Richards said a local printing expert thought the archive was of national significance to the history of printing in Scotland and Perth Museum had been contacted for advice and were keen to come and have a look.
"At the very least the archive should be catalogued and stored safely, but all this will take many months," said Mr Richards.
"I pick up boxes, get involved in reading the letters, then an hour has gone by."
Unique examples of advertising for long forgotten companies include breakfast marmalade for Lindsay Low Ltd of Dundee, J.Bisset and Sons Blairgowrie farm cart with pneumatic wheels and The Sound gramophone recording company in Dundee.
There are also lots of photographs of the printing process and staff among the material.
"This unique archive was so nearly lost and we hope that in the very near future to arrange a display of this material in our local Heritage Centre, 8 George Street, Coupar Angus," said Mr Richards.