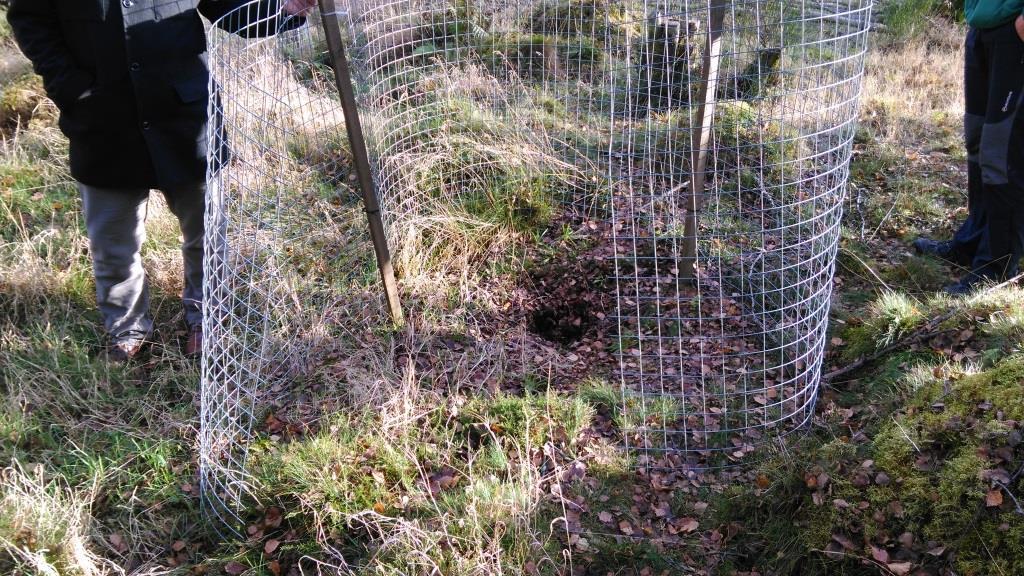 Five "extremely rare" spruce trees have been stolen from a specially-developed conservation area in Perth.
The almost-extinct Serbian spruces were taken from Kinnoull Hill Woodland Park last week.
Native to forests of Bosnia-Herzegovina and western Serbia, the trees share a visual similarity to the Norwegian spruce – a popular type of Christmas tree.
Police are working with Forest Enterprise Scotland to try to identify the culprits.
According to Forest Enterprise Scotland, the stolen trees have no commercial value but contain "priceless" genetic material essential to the long-term conservation of the species.
Most of the roots had been left in the ground after the "pointless" theft, meaning the evergreen trees are now most likely dead.
Endangered conifer species facing extinction in their native range are kept in special conservation areas, like Kinnoull Hill Woodland Park.
Perth and Kinross Countryside Trust (PKCT) operate the conservation area  alongside the Royal Botanic Gardens in Edinburgh and Forest Enterprise Scotland.
Tom Christian, PKCT project officer, said: "The climate and landscape of Perthshire is ideal for growing conifers and the area provides a very important safe haven for rare and endangered species from around the world. Each conifer conservation programme tree is grown from seed that has been specially collected from its native habitat.
"Each tree represents years of work organising expeditions, processing the collected seeds, growing them on and then planting them in Perthshire.
"Until these trees were stolen, we probably had the greatest concentration of these trees outside of their native range."
Forest Enterprise Scotland's beat forester, Robin Lofthouse, said: "At a time when biodiversity around the world is increasingly under pressure, projects such as this play an invaluable part in conserving genetic material.
"This pointless theft is extremely frustrating not just because of the loss but because the trees are likely to have been killed. The thief had tried to dig them up but left most of the roots in the ground.
"Sadly, we are now in the situation where we are forced to look at where we could site wildlife cameras to protect other species in the project.
"I would urge anyone with any information about this crime to contact Police Scotland, or the local Forest Enterprise Scotland office."
A spokesman for Police Scotland confirmed they were investigating the theft, thought to have occurred between the evening of December 1 and the morning of December 2.
It is the second high-profile Christmas-related theft in Perthshire in recent days.
On Monday, a miniature model of Baby Jesus was pinched from a Nativity Scene at St John's Kirk in Perth city centre.
The model, which was stolen in a similar incident in 2015, was retrieved by police on Tuesday evening.