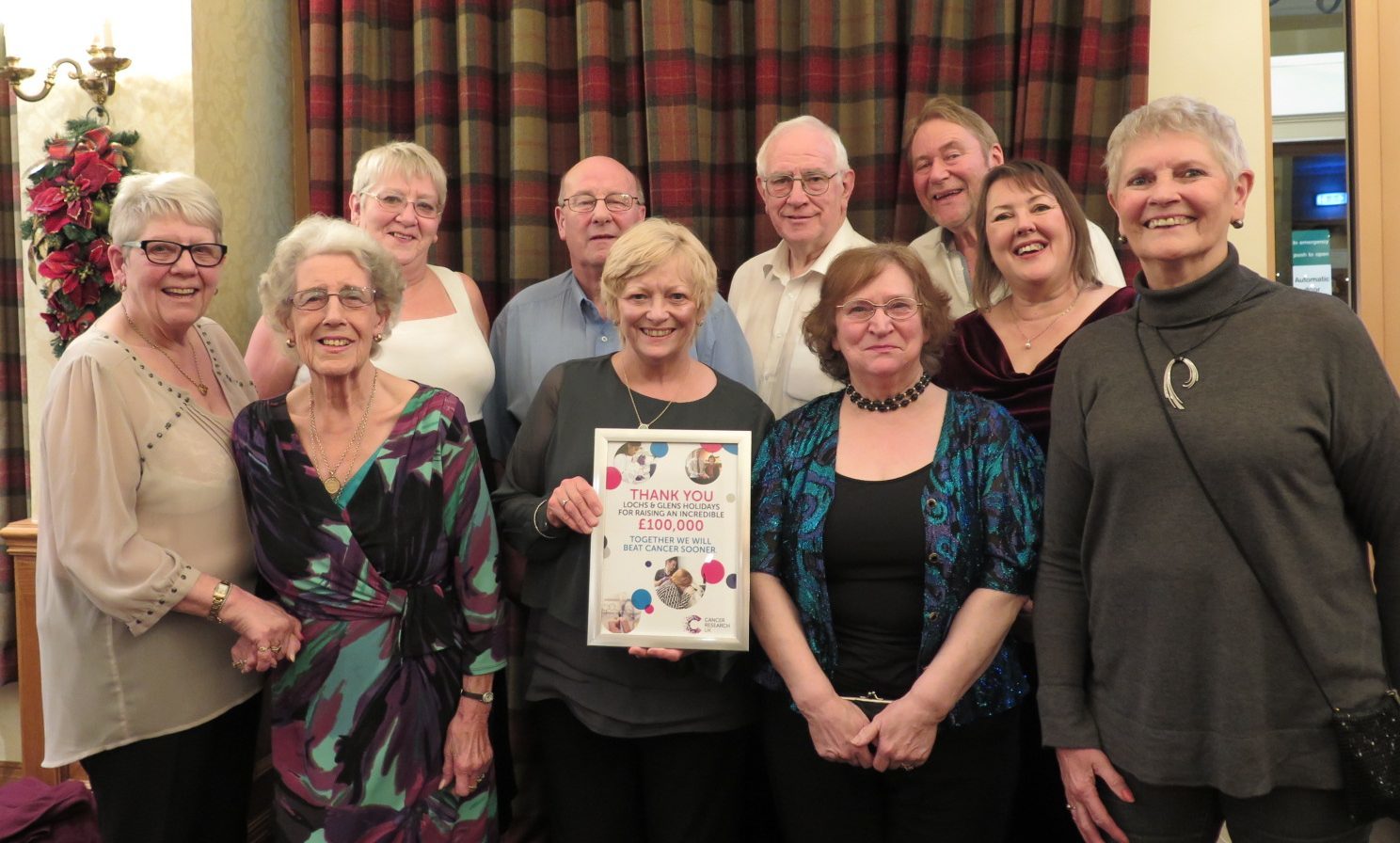 Cancer research scientists have been handed a £100,000 boost by bosses at a family-run tourism firm.
Staff and guests from Loch and Glens Holidays celebrated their fundraising milestone with a party at the company's Loch Tummel Hotel near Pitlochry.
The money, raised through visitor donations, prize draws and other events, will be used to help fund potentially ground-breaking studies into more than 200 cancers.
Thousands of guests from the firm's six hotels donated to the £100K total.
Dorothy Rodger, local fundraising manager with Cancer Research UK, presented bosses with a certificate in recognition of their efforts.
"Cancer survival rates have doubled since the 1970s and our work has been at the heart of that progress," she said.
"However, we would have only been able to achieve this thanks to the dedication and commitment of supporters. We are delighted to have been working with Lochs and Glens Holidays for some time and have received huge support from all the guests and staff at each of the groups' six hotels."
She added: "Cancer Research UK relies entirely on voluntary donations to fund our research so their ongoing support has been particularly welcome.
"Lochs and Glens guests visit Scotland from across the UK and we would like to thank them for their amazing generosity and support.
"Cancer Research pioneers life-saving research to bring forward the day when all cancers are cured. We're the only charity fighting over 200 cancers."
Neil Wells, managing director at Loch and Glens Holidays, said: "Cancer is an illness close to all of our hearts and we are overwhelmed by the generosity of our customers in supporting this amazing cause.
"I would like to thank all of our hotel managers and their teams for organising events throughout the year and we will continue doing as much as we can to help beat cancer sooner."
As well as its Pitlochry site, the company has hotels at Ardgartan, Inversnaid, Loch Awe, Loch Achray and Fort William.
Dundee is home to pioneering research, with focus on bowel, breast and skin cancers.
Scientists are studying the molecules that control cell division and how this goes wrong in cancer.