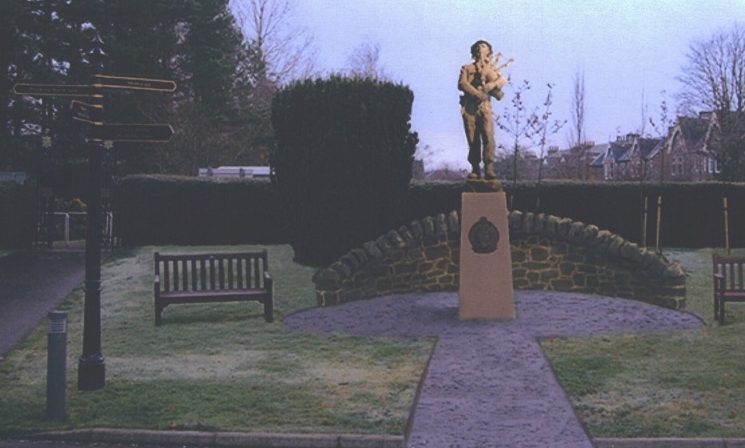 A larger-than-life bronze piper could soon get pride of place at Perth's Black Watch museum.
The new statue is being created to honour the tens of thousands of soldiers from the 51st Highland Division.
A planning application for the installation has been submitted to Perth and Kinross Council.
Last year, the 16th Century venue hosted the iconic Weeping Window poppies display which attracted more than 120,000 visitors.
Edinburgh-based sculptor Alan Herriot is working on a clay model of the Black Watch piper, which will be later cast in bronze.
Major Ronnie Proctor, secretary of the Black Watch Association, said: "We had been talking about creating a memorial with Dr Tom Renouf, who was a well known Black Watch veteran."
Sadly, Dr Renouf never got to see the plans progressed. He died, aged 91, in July, 2016, just days after he was made an MBE.
Mr Proctor said: "When Tom died, Alan said he wanted to continue working on the statue as a tribute to him. He has agreed to do this free of charge, which is just fantastic."
Mr Herriot, who heads the Endeavour Art Studios in Granton, was the creator of one of the most famous Black Watch sculptures, the kilted Highlander at Ypres, Belguim.
He also made the bronze soldier and girl statue at the North Inch in Perth and the piper at House of Bruar in Highland Perthshire.
Mr Proctor said: "If all goes well, we'd like to have an official unveiling in the summer time. Alan will be in Perth next week to finalise the design and make sure the details of the uniform are correct."
Mr Herriot said: "Obviously, this will be a tribute to the soldiers of the Highland Division, which was made up of many regiments including the Black Watch.
"But I also wanted to pay tribute to Sir Tom."
He added: "It's extremely important that we don't forget what these men sacrificed for — we wouldn't have the freedom we have today had it not been for their sacrifice.
"They were protecting us and they were protecting their homeland and they were protecting freedom."
Planning officers will rule on the proposal in the coming weeks.