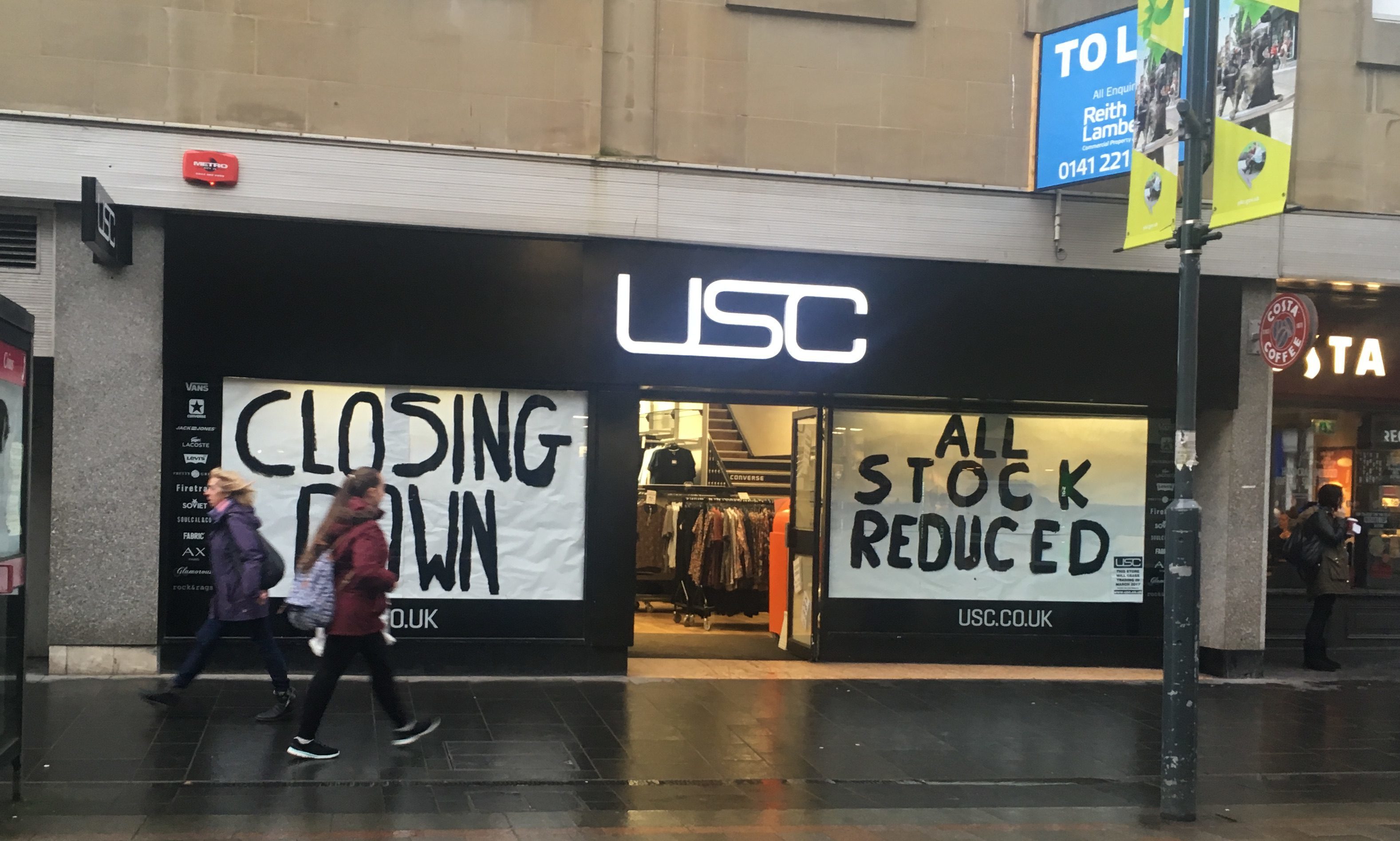 Troubled fashion chain USC has confirmed it is axing its Perth city centre store.
The retail giant, which was recently bought out of administration last month, will shut the High Street outlet next month with the loss of about a dozen staff.
The two-floor unit has gone on the market with an annual rental offer of £100,000.
The announcement comes after another chain Ness Clothing revealed it will be closing its store in Perth's High Street this week.
The company, which has gone into administration, had previously announced it had been forced to close seven other branches, including Dundee.
USC, which was owned by Mike Ashley's Sports Direct since 2011, was bought by Sports Direct subsidiary Republic in January.
A Sports Direct spokesman confirmed at the time that there would be redundancies, but most of the 700 staff at its 28 USC stores would keep their jobs.
USC's directors filed a notice of intention to appoint receivers following a demand from fashion brand Diesel over unpaid debts.
At a management meeting in December, USC bosses agreed that the company was unable to repay what it owed.
Diesel and a number of other brands have reportedly fallen out with the retailer.
Perth city centre councillor Peter Barrett said: "I feel very sorry for the staff who will lose their jobs because of what happened at Sports Direct.
"The local staff are paying a heavy price for what appears to be poor management of the company nationally leading to the breakdown in relationships with big brands such as Adidas and Diesel."
He said: "It means we will have to redouble our efforts to support Perth city centre and generate a buzz and footfall in Perth through events like the Norie-Miller enchanted garden which has been a tremendous success."
No one from Sports Direct was available to comment on the closure.
All stock at the High Street branch has been reduced as part of a closing down sale. A notice in the front window advises customers that the branch will shut sometime in March.
It is not clear what will now happen to USC's other Scottish stores in Glasgow, Edinburgh, East Kilbride, Inverness, Falkirk and Stirling.
The company employs around 1,000 staff at its 90 branches across the UK.
Commercial property advisers Reith Lambert are marketing the 6,000 sq ft store as a prime retail unit in a "consistently high footfall location"
Ness Clothing is also shutting its stores in Edinburgh and Glasgow.
Business restructuring partners James Stephen and Matthew Tait were appointed join administrators over Ness Clothing in December.
Mr Stephen said talks are under way with a potential buyer. "Discussions with the preferred bidder are progressing well," he said.
"However, further store closures have been unavoidable in the current difficult trading climate. Regrettably, 13 staff from these stores will be made redundant."