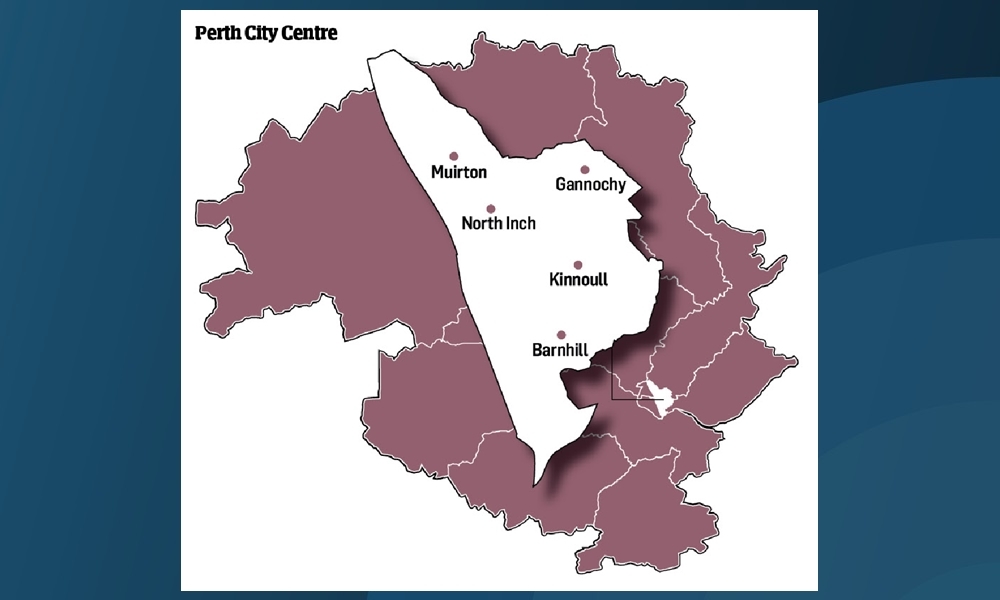 Perth city centre was last year rocked by the sudden closure of independent department store McEwens of Perth.
The business, which traded from the same St John Street site since 1868, shut with the loss of more than 100 jobs.
It prompted calls for change from many city centre traders, who felt that not enough was being done to protect them and help bring shoppers into the area.
Perth and Kinross Council responded by creating more parking bays and introducing business rates relief for struggling firms.
But there are even bigger plans in the pipeline, with a radical £30 million revamp of Perth City Hall and the George Street museum and art gallery. Pontoons have been put in place as part of ambitious plans to establish water taxis and leisure cruises along the River Tay.
In recent weeks, the local authority struck a deal to pave the way for a massive shopping and cinema complex at a car park site in Thimblerow, on the edge of the High Street.
Major housing developments – including Scotland's first brand new secondary school in more than 25 years – are planned for land at Bertha Park and Almond Valley. They will be supported by millions of pounds worth of new roads.
The city centre ward covers the area from Perth Prison to the North Muirton Industrial estate, including Bridgend, Gannochy and Kinnoull Hill.
Other notable landmarks and site include Perth Concert Hall, the under-construction Perth Theatre and St John's Kirk as well as the huge greenspace areas North and South Inch.
With nearly 16,000 residents, according to the latest available figures, the ward accounts for around 34% of the city's entire population. There is a higher percentage of working age people, and a lower number of children.
Around 15% of the ward are income deprived and out of work, slightly more than the Scottish average (13%).
---
Candidate profiles
The Courier invited each candidate to submit a short introduction to themselves and, if they wished, a video explaining why they deserve your vote.
Chris Ahern (Conservative)
"As a local resident, living with my family in North Muirton and a son at a local school, I would welcome your support," said Chris.
"Perth is a very fair city but we are still a long way from recognising our full potential.
"Like the rest of you I live with the frustrations at the poor state of local roads, the lack of shops in the city centre, the constant battle with parking on side streets, and the problems of having to navigate around dog mess on our streets."
He added: "As chairman of North Muirton Community Council I have managed to sort out a number of local issues, and I know I have much to offer all residents of Perth City Centre and will ensure that everyone is listened to and represented.
"I want to ensure that a new Scottish Conservative-led council will look after our education system and ensure that there are sufficient teachers and better technology in our schools. I would also do all I can to ensure our public areas and parks are as attractive as possible to promote active recreation, including that for disabled people."
Peter Barrett (Lib Dem)
"Nationally we face an uncertain future, caught between the Conservatives' rush towards a damaging hard Brexit and another divisive SNP referendum on independence," said Peter.  
"Locally and nationally the Liberal Democrats offer something different and something better.
"I am committed giving our children the best start in life by investing to modernise ageing schools in Perth."
He added: "I have championed affordable housing for local families and tackling fuel poverty, by providing thousands of better-insulated homes.
"I am passionate about improving health and social care for the elderly, people with disabilities, carers and improving mental health services.
"Under the SNP our roads are in a dreadful state with more and deeper pot-holes, repairs taking longer and costing more. We will turn that around."
Peter added: "I have 14 years' experience as a hardworking and effective local councillor, making a difference and getting things done."
Eric Drysdale, SNP
Eric said. "If elected on May 4, you can count on me as a determined and resilient ally. This is especially the case when it comes to protecting vital services and tackling the delays and bottlenecks that are so often a feature of bureaucracy.
"I am a semi-retired 59-year-old resident of Perth, having fallen in love with the city when my wife and I moved here some 22 years ago.
"After graduating from St Andrews University, I began my career with Royal Bank of Scotland in 1979, when it was a traditional High Street bank."
He added: "Increasingly uncomfortable with the way the bank had changed, I was pleased to take early retirement a couple of years ago. This allowed me to devote some of my time to roles within professional football at club and national level.
"Working closely with council officials and all other councillors for the good of the community is, I believe, essential, as is being approachable, a sympathetic listener and an effective communicator.
"If elected, I would use my problem solving skills and many years of negotiating experience to support and assist constituents and community groups."
Tricia Duncan (Labour)
Fighting Ward 12 for Scottish Labour in the local government election is their local chairwoman, Tricia Duncan, who is also a well-known senior member of Educational Institute of Scotland.
Tricia said: "I was born and brought up in Perth, and raised my own family here in the Fair City. I've also spent 21 years as a teacher in Perth and Kinross schools, so I know the issues facing families, communities and the city itself.
"I have worked in partnership with Perth and Kinross Council as an EIS representative and am also a past vice-convener of the General Teaching Council for Scotland and vice-president of the EIS."
She added: "With my wealth of experience, I believe I can make a difference to the future of our young people. I want to interest people in the issues and really hope local people will support my candidacy and vote for me on the May 4."
She added: "I pledge to stand up for the people of Perth City Centre – whether it's on any issue national or local, big or small. As your future councillor, you will be my number one priority."
Fraser Hunter (Green)
'I have lived within Perth and Kinross for over 25 years, both in rural communities throughout the Carse of Gowrie and now within the city centre of Perth," said Fraser.
"I have engaged widely in the local community through work with homelessness, community outreach and involvement in the leadership of local charities.
"Having studied both full-time and part-time with the University of the Highlands and Islands through Perth College I have experience of the further and higher education facilities available locally.
"Through these roles I have gained a broad knowledge of the opportunities and challenges faced by communities and individuals throughout Perth and Kinross, and particularly within the city centre. They have provided extensive experience in partnership working with various agencies including Police Scotland, Perth and Kinross Council, Perth College, and many other local charities, churches, businesses and community groups."
He added: "I have a keen interest in seeing sustainable and inclusive community development within the Perth City Centre Ward, and further afield throughout Perth and Kinross."
Andrew Parrott (SNP)
"It has been my privilege to represent Perth City Centre Ward on Perth and Kinross Council since May 2015 and the by-election caused by the retirement of Jack Coburn," said Andrew.
"Born in London, I graduated from Aberdeen University and had a successful 37-year career in the British Army. As a lieutenant colonel, I commanded the Scottish Transport Regiment at its HQ in Dunfermline and enjoyed a period on loan service at the Baltic Defence College in Estonia."
He added: "I have had a home in Perth since 1999 and settled here on retiring from the British Army. My wife and I are now very much at home in Perth. I joined the Scottish National Party in 2011 and since then I have been active in the Perth River Tay branch which covers Perth City Centre.
"I am also involved on a voluntary basis with Perth and Kinross Credit Union, the Royal Scottish Geographical Society and the John Muir Trust. My other interests include military and railway history."
Andrew added: "My time as a councillor has brought home to me the importance of maintaining a connection between the community and the council which is charged with serving their interests.
"If elected on May 4, I pledge to be that link for the people of Perth City Centre."
Ian Thomson (independent)
"I lived and worked in Perth for the last 30 years, first in my own successful business and then a variety of other jobs, mostly marketing," said Ian. "I have served in the Armed Forces Scots Guards (five years) and Royal Corps of Transport (14 years).
"Living in Perth has been good for me and my family and I now have time to give something back to Perth by way of service to my local community. Unlike the candidates from the political parties I will be paying my own election expenses."
He said: "If elected, the issues I will focus on are: Parking in town and residential areas to prevent residential areas being used as car parks and more affordable homes for Perth people."
He added: "A lot of privately owned shops or homes sit empty, as the value of the property increases, developers/owners make a profit. It would be better if their minds were focused in selling or using the properties."
He also intends to campaign for "an immediate wage cut of at least 25% for all councillors and senior council employees".
He said: "This alone would produce nearly £200,000, which could be spent on local charities or PRI/NHS."
Ian also wants to operate a licence scheme for beggars and stop "junkies" from using town centre chemists.
David West (independent)
David said: "The council seems indifferent to the views of local people. Collectively over different administrations many councillors have allowed themselves to be castrated of any real power, content to squabble over pennies when millions are being allocated to grandiose vanity projects while Perth city centre often has more chuggers, buskers and beggars than shoppers.
"This must change and the 'same old' isn't going to achieve it.
"Married with two grown-up children, I now have the time to make a difference. My background is in housing having worked across the sector from homelessness to sales."
He added: "I believe that collectively we have a responsibility as the political, spiritual and business communities to do more to tackle the pockets of poverty that exists in our community. We can do better, we should do better, we must do better.
"A strong collection of independents can make a difference and I would be proud to be one of their number."