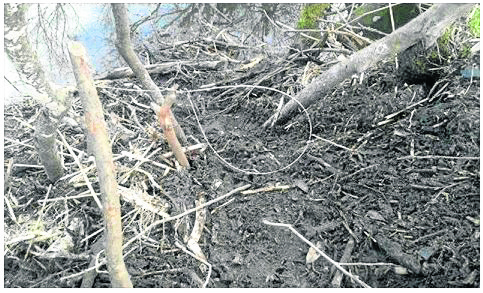 An animal rights group is calling for tougher laws on wildlife traps after a series of grisly snares were found at a Perthshire estate.
The lures use fox and deer carcasses as bait to attract predators, in a bid to protect pheasants and grouse for shooting parties.
But according to campaigners, the so-called stink pits are often set near walking routes and pose a risk to family pets.
Several legal snares were spotted next to dead animal bait at the Glenturret Estate, near Crieff.
One pit found, highlighted in a Sunday newspaper, was filled with dead geese, rabbits and deer limbs.
Another featured several deer heads jammed between low hanging branches of a tree.
All traps found had been legally set.
Legislation introduced six years ago states that snares – thin wire loops geared to close around the animal's neck – must not be set where an animal might hang itself. The trap must be checked every 24 hours to ensure any captured creatures don't suffer.
The League Against Cruel Sports argues that Scottish Government rules don't go far enough.
The group's director in Scotland Robbie Marsland said: "Since the snaring regulations were introduced over five years ago, animals have continued to endure needless suffering as a result of cruel and indiscriminate traps.
"Regulations are not a workable solution for something as crude and barbaric as a snare.
"In short, you can't regulate cruelty."
He added: "A ban is the only way to eradicate the problems associated with snaring. We will now step up our campaign to convince the Scottish Government to take the common sense approach and ban the manufacture, sale, possession and use of all snares once and for all."
Harry Huyton, director of Edinburgh-based anti-animal cruelty charity OneKind, added that a recent review of snaring regulations by Scottish Natural Heritage, was a missed opportunity.
"It was destined to fail from day one, due to a bizarre and inadequate remit which specifically excluded considering whether snares have a place in modern Scotland.
"This, in spite of the fact that they are banned throughout most of Europe."
A Scottish SPCA spokeswoman explained that snares are not illegal and it is only under acute 
circumstances that they will be considered as such.
If they are considered illegal, the police will remove the object.
The Scottish animal welfare charity would only step in if a live animal was caught in one. Snares are one of the simplest traps and are very effective.
The Glenturret Estate has declined to comment on the animal snares.