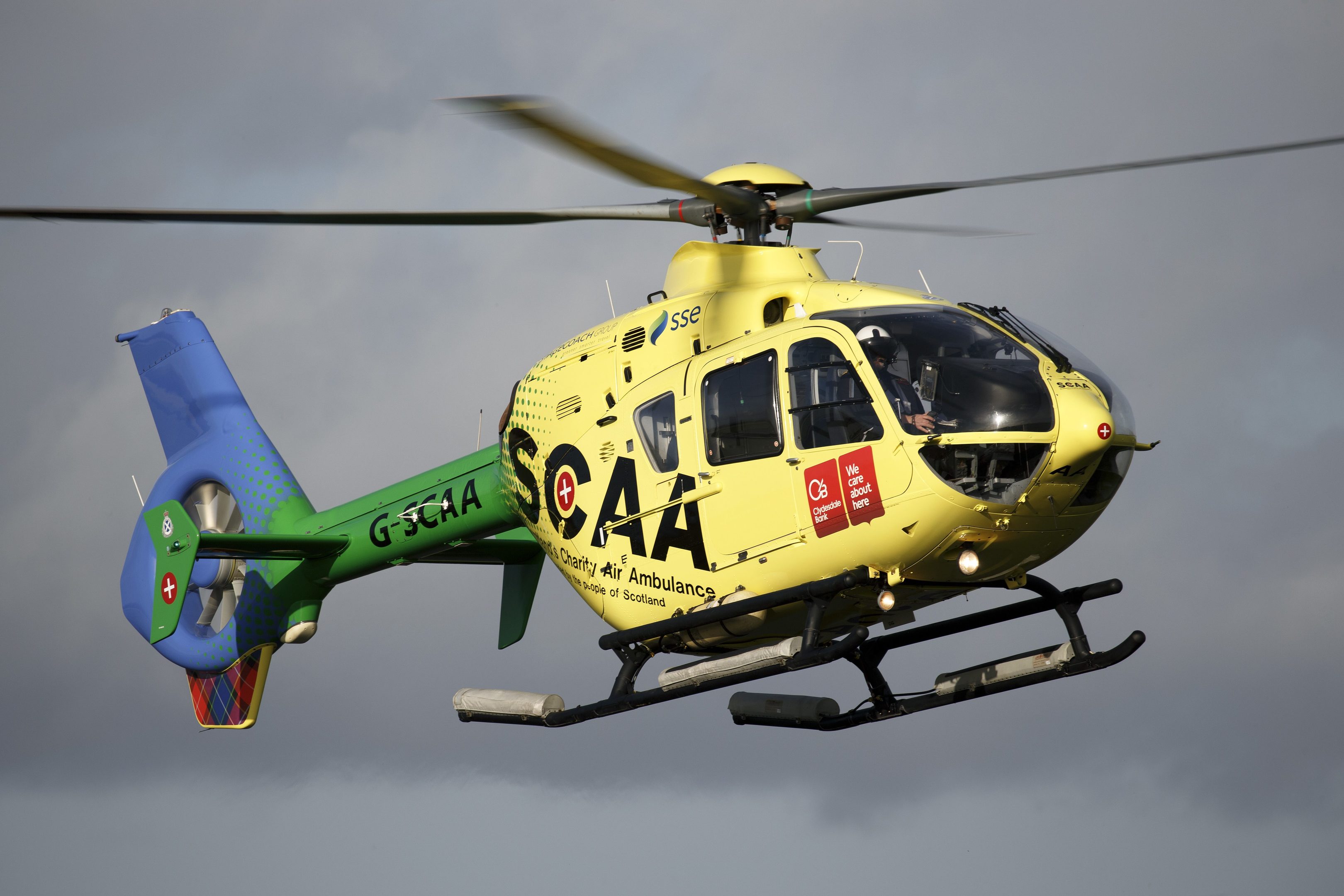 In its four years in existence, Scotland's Charity Air Ambulance has surpassed all the hopes of the men and women who brought it into existence.
The aircraft they launched into the air was designed to offer vital emergency care to some of the country's most inaccessible rural areas.
Many of those areas are within the Perthshire region in which the organisation's helicopter is based, at Scone airfield.
The visionaries, among them local businessmen including John Bullough, thought it the single greatest thing they could do to benefit the people of Scotland.
Nonetheless, when it launched on May 22, 2013, they knew it would be challenge simply to secure the money to keep the helicopter in the air.
As it celebrates its fourth anniversary, SCAA is an integral part of Scotland's emergency network, working in partnership with the Scottish Ambulance service, which operates Scotland's two other air ambulances.
Hundreds of individuals have seen life-saving care brought to them in minutes and Helimed 76 as it is known has become a regular sight at hospitals and in communities the length and breadth of the country.
The charity's two aircraft – the first Bolkow 105 and its replacement, the larger EC 135 – have now flown the equivalent of five times around the world – that's half way to the moon.
It has responded to almost 1,200 emergency call outs, while SCAA's rapid response vehicle – a bespoke Skoda Octavia 4×4 – has attended at more than 200 others.
Moreover, it has also been taken to the hearts of Scotland's people who have seen its value and help to raise the £2 million a year it takes to keep the aircraft in the air.
Recognising the value of extending its capabilities, a group of local business men and women have agreed to fund the shift from ten hour shifts to 12 hour shifts, enabling the service to attend otherwise "out-of-hours" emergencies.
Its role is also changing as the longer flights and additional space made available by the shift to a new and larger helicopter now enables it to increase the number of hospital transfers it makes.
That has reduced the travel time to care for all manner of seriously ill people and for those in need of operations.
It also enables them to transport specialist medics to accident scenes and hospitals around the country.
In March, the impact the charity has had was illustrated as the crew of Scotland's Charity Air Ambulance were hailed as the nation's rural heroes.
The charity was described as "a crucial lifeline that Scotland simply could not do without" at the Scottish Rural Awards.
Its pool of two pilots and five paramedics were praised for their "selfless and dedicated service" and described as "the true heroes of remote communities".
Judges said the team had "operated in difficult, stressful and highly demanding situations to bring care and comfort to those involved in emergencies, saving countless live in the process".
Top five call-outs by health board area
Tayside – 525 (45%)
Highland – 148 (13%)
Forth Valley – 120 (10%)
Fife – 79 (7%)
The Borders – 76 (6%)
The only health board area SCAA has never flown to is Shetland
Aircraft emergency call-outs
668 trauma incidents – 279 RTCs (24%), 166 falls (14%), 85 equestrian accidents (7%) and 35 industrial accidents (3%)
438 medical emergencies, including 241 cardiac-related cases (20.6%) and 53 strokes (4.5%)
10 retrievals and 55 transfers
The public impact
The people of Scotland raise more than £2 million a year to keep the charity air ambulance in the air and SCAA chief executive David Craig sees that as evidence it has become "a truly national charity".
Since he joined the team a little under two years ago, he has seen the organisation come on leaps and bounds, extending its reach and its life-saving care.
In the years to come, as Scotland's new network of major trauma centres comes online, he sees its role becoming even more important.
"We are still the youngest air ambulance charity in the whole of the UK and will be until Northern Ireland takes to the sky later in the year," he said.
"Nonetheless, the growth of the charity since its first days – and even since I came on board 18 months or so ago – has been phenomenal.
"The size of the team has doubled, we are taking on ever more diverse roles and I think we can safely say that we are now a truly national charity.
"Our reach is certainly nationwide. There is barely a part of Scotland that we have not flown to."
He added: "You never know quite what our team will be faced with.
"One day the helicopter is unused and the next you have a rush of serious incidents to attend – as we did last week when a serious accident was followed immediately by a flight to Arran to airlift a patient with suspected meningitis.
"In these cases it is vital that patients are brought to the most appropriate care as swiftly as possible and that – in conjunction with the Scottish Ambulance Service – is what we bring to the people of Scotland.
"SCAA is 100% funded by the people of Scotland and over the past four years the public has responded by raising the £2 million needed annually to keep the helicopter flying.
"We are constantly overwhelmed by that level of support, but we also know it is evidence of the lives we have touched.
"Many people will now know someone who has benefitted from our help – particularly those in remote and rural communities.
"That is the landscape of this country and that is where SCAA comes into its own."
As the Scottish Government works to introduce a new network of major trauma centres in Aberdeen, Dundee, Glasgow and Edinburgh, Mr Craig said talks were ongoing to develop a model of care for the future.
The Government has committed to delivering casualties anywhere in Scotland to one of those four centres within 45 minutes.
He believes that will mean looking closely at air ambulance support and how it may need to expand in the future.
"There are currently around 40 air ambulance helicopters operating across England and Wales yet in Scotland we currently have just three.
"The trauma network model may take another two to three years to come in but the question will start to be asked 'Do we have enough air ambulances to meet the needs of that model?'."
"The talks taking place now and into the future will look to answer that."