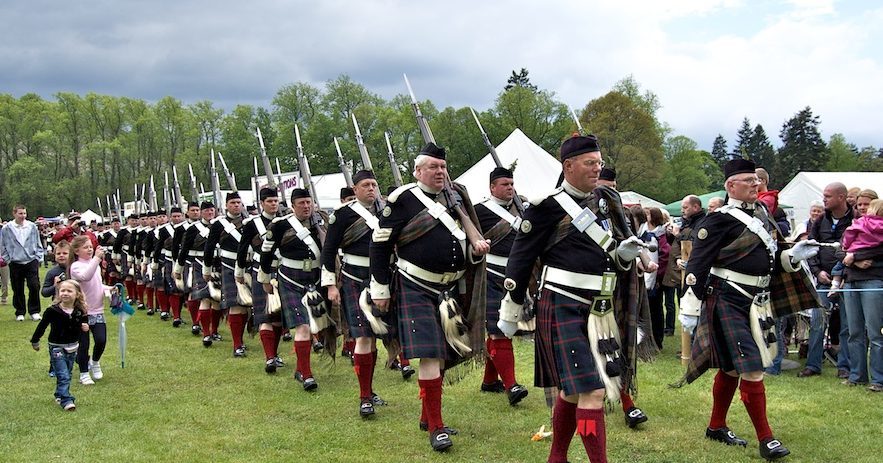 Europe's last remaining private army will play a central role in a weekend of events at a Highland Perthshire castle.
The annual Atholl Highlanders Parade and Gathering take place on Saturday and Sunday, May 27 and 28, at Blair Castle.
"We think it is fantastic that the Atholl Highlanders are still in existence in 2017, they are completely unique and a living and breathing part of our history and heritage," said Julia Sim, sales and marketing manager for Blair Castle
"They are also a huge asset to the castle, to Highland Perthshire and to Scotland, as they attract so many visitors to the castle"
The Highlanders have always had very close ties to the British monarchy as castle archivist Jane Anderson explained.
"Queen Victoria made her first visit to Scotland in 1842 when Lord Glenlyon, later the 6th Duke of Atholl, took a bodyguard of his men to greet her at Dunkeld, with several other local lairds.
"There was dancing, piping and lunch and the Queen was said to be impressed with the Highlanders, as well as thoroughly entertained.
"Two years later, in May 1844, she returned to Blair Castle for a holiday with Prince Albert.
"The Atholl men stood guard during this stay of unprecedented informality when Albert stalked and the Queen enjoyed pony rides. In recognition of this service she granted the Highlanders the right to carry the Queen's colour and thus to bear arms.
"The following year the Queen's and regimental colours were presented at the Atholl Gathering which was moved to Blair Castle on the anniversary of the Queen's visit. This became the social highlight of the year at Blair."
The Highlanders parade kicks off at 2.30pm on Saturday on the forecourt of the castle, accompanied by the sound of the Highlanders pipes and drums.
The following day, the gathering will take place, with the Highlanders officially opening the Highland Games with a 'March on,' led once again by their atmospheric pipes and drums.