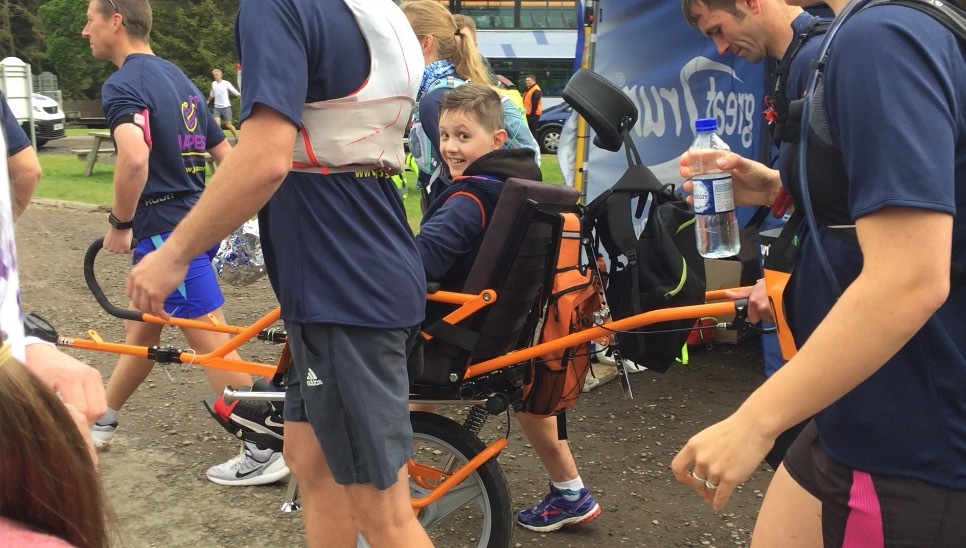 A team of volunteers from an "inspirational" charity are to help a Perthshire boy fulfil his dream of scaling a Munro.
Alex Medley, who lives near Auchterarder, has never walked unaided as he has a rare neurological disorder called Hereditary Spastic Paraplegia but on Sunday the aim is for him to reach the summit of 3,982ft Ben Lawers.
"This will be a special birthday celebration for Alex," said his mother Sam Medley.
"He is 12 on Friday and starts high school at the Community School of Auchterarder next week, which he moved to last year.
"He's been through many surgeries, the last bone crunching one at Easter time but nothing stops his determination and love of trying new experiences.
"He's a bit of a bionic boy with plates in his legs and ankles, as well as a titanium pump which drips muscle-relaxing drugs directly onto his spinal nerves."
The family first got involved with the charity Japes when they helped Alex to cover the first eight miles of the Stirling marathon in May.
"It was a fantastic experience for Alex and one he still talks about," said Mrs Medley.
"A great bunch of people got four mobility restricted young people and adults over the Stirling marathon course.
"I casually mentioned to Nelson Liddle, the brains behind Japes, that we've always wanted to get Alex up a Munro.
"Japes have taken the challenge on and the Japes team, with us in tow, are attempting to get Alex up to the top of Ben Lawers on Sunday."
Mrs Medley along with husband Philip and their nine-year-old daughter Charlotte will also make the climb.
Japes aims to allow children, young people and adults who live with mobility challenges to experience the "thrill, excitement and camaraderie" of taking part in events with the use of a specialist designed wheelchair.