Hundreds of people lined the streets of Perth in a counter-protest to a right-wing rally against the building of a mosque in the city on Sunday afternoon.
The Scottish Defence League (SDL) was due to take part in a rally outside the city's rail station at 2pm in a demonstration against the £1 million development on Jeanfield Road.
However masses of people from the likes of Perth Against Racism and anti-fascist groups lined the streets around the station in a counter-protest.
Police have now confirmed that one man was arrested during the demonstration.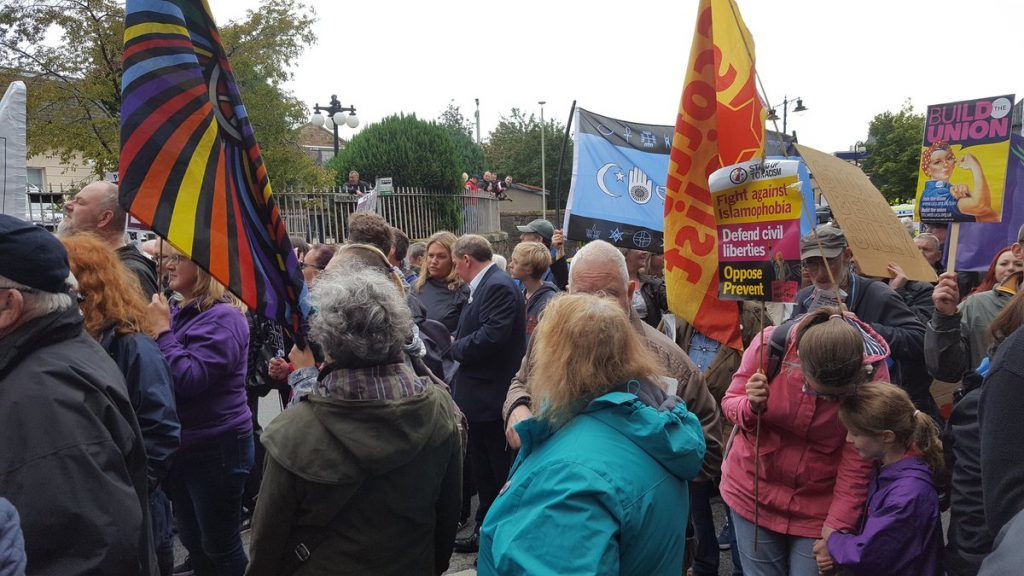 SDL supporters had warned on social media that Perth would become a "war zone".
There were reports that the SDL were chased away from one street upon arriving in a coach – after finding it too full of people to park.
Reports suggested only a small number of SDL demonstrators showed up to Perth.
VIDEO: Tensions high as hundreds take to Perth streets to oppose Scottish Defence League
Chants of "Nazi scum, off our streets" could be heard around the city centre as the two sides faced off.
There was a large police presence, with both groups separated by barriers.
BREAKING: the SDL just arrived in Perth in a coach and were chased off, not allowed to park pic.twitter.com/5SD4giKBws

— Liam (@parcelorogues) September 10, 2017
The whole of the SDL in Perth ???? #antifa pic.twitter.com/w9KENLwft9

— MissDuffy (@MissDuffyAFA) September 10, 2017
Banners were on show from counter-protesters proclaiming "no parking for SDL hate" and "SDL Nazis not welcome".
Another read: "Your granddad didn't vote for fascists, he shot 'em".
My sign for the #Perth #Antifa protest. Nae #Nazis, nae #SDL, nae #fascists.#antifascists #OneScotland #Scotland pic.twitter.com/JQpOzh984D

— Fiona Robertson ♿ (@knittingquark) September 10, 2017
Amazing numbers in #Perth opposing the #SDL fascists. #Antifa #antifascists #OneScotland pic.twitter.com/ZSDLu51HqL

— Fiona Robertson ♿ (@knittingquark) September 10, 2017
Perth says no to the SDL. pic.twitter.com/By9byBrilB

— eric rhodes (@eric_rhodes) September 10, 2017
More than 100 people – members of anti-fascism groups and concerned residents – gathered in Perth's Queens Hotel on Thursday night to coordinate a counter movement.
Earlier today Tayside Police Division said: "A demonstration is expected to take place this afternoon (Sunday, September 10 2017) in Perth city centre.
Perth unites against hatred as supporters of Scottish Defence League warn city could become a "war zone"
"The event is due to start at 2pm and those not attending are advised to avoid the area.
"We are working with local partners at Perth and Kinross council to keep disruption to a minimum."
Read our full report here.
#antifasctag has to be the best thing I've heard all day. Down with the SDL! Perth is a city for all! pic.twitter.com/NUYXbnEfdE

— El ✨ (@PiroBurgher) September 10, 2017
Perth police seem to have allowed counter-protesters to block both entrances to the designated SDL rally site
Still no sign of them

— James Doleman (@jamesdoleman) September 10, 2017
Crowds beginning to gather at Perth station. Our community will not tolerate fascists seeking to divide us. pic.twitter.com/XSKseEouaz

— Pete Wishart (@PeteWishart) September 10, 2017
Banners from SDL counter protest in Perth pic.twitter.com/ewPORjcu50

— James Doleman (@jamesdoleman) September 10, 2017
Counter-protesters in Perth preparing to march to SDL rally site in town centre pic.twitter.com/8CQSixVPsH

— James Doleman (@jamesdoleman) September 10, 2017
Perth against SDL fascists #instapoetsagainstnazis pic.twitter.com/0deib9IyUw

— Instapoet (@instapoetof_) September 10, 2017
Well done #Perth anti fascists. Outnumbering small fascist 'demo' UAF Scotland Edinburgh Against the Racist SDL… https://t.co/BKywnUBSfB

— UAF (@uaf) September 10, 2017