Traffic was brought to a halt amid ugly scenes as demonstrators clashed  in Perth yesterday.
Tensions were high as anti-fascist groups demonstrated their opposition to a march by the Scottish Defence League.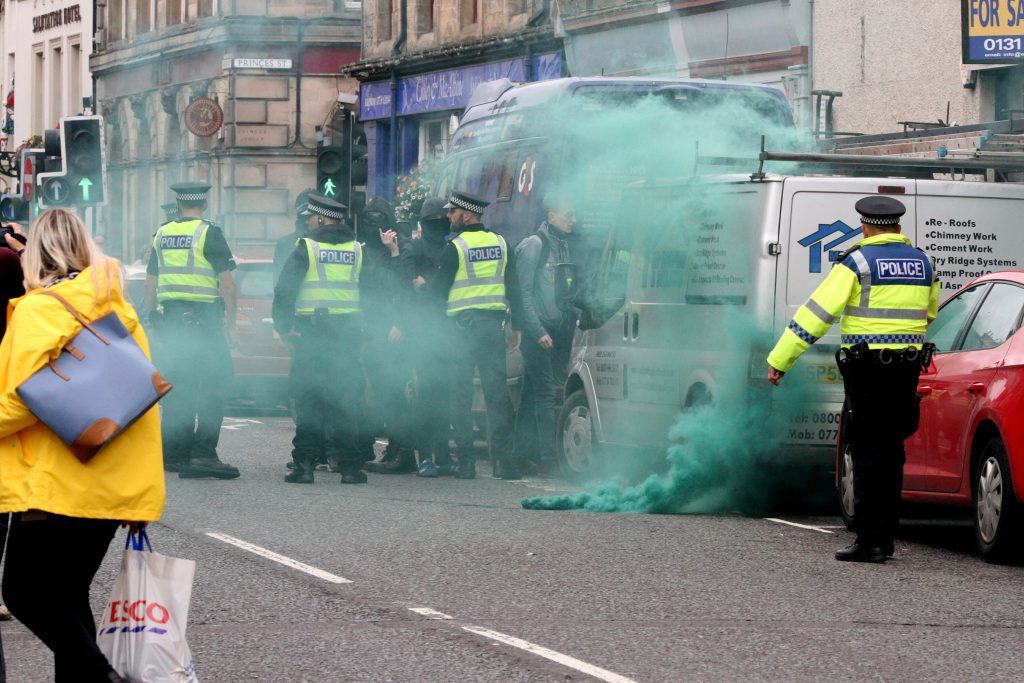 The SDL had staged a 'protest' walk against a new Mosque being created in the city.
Police maintained a very heavy presence throughout the city centre. Some officers were on horseback, and there were scores of riot vans in the vicinity.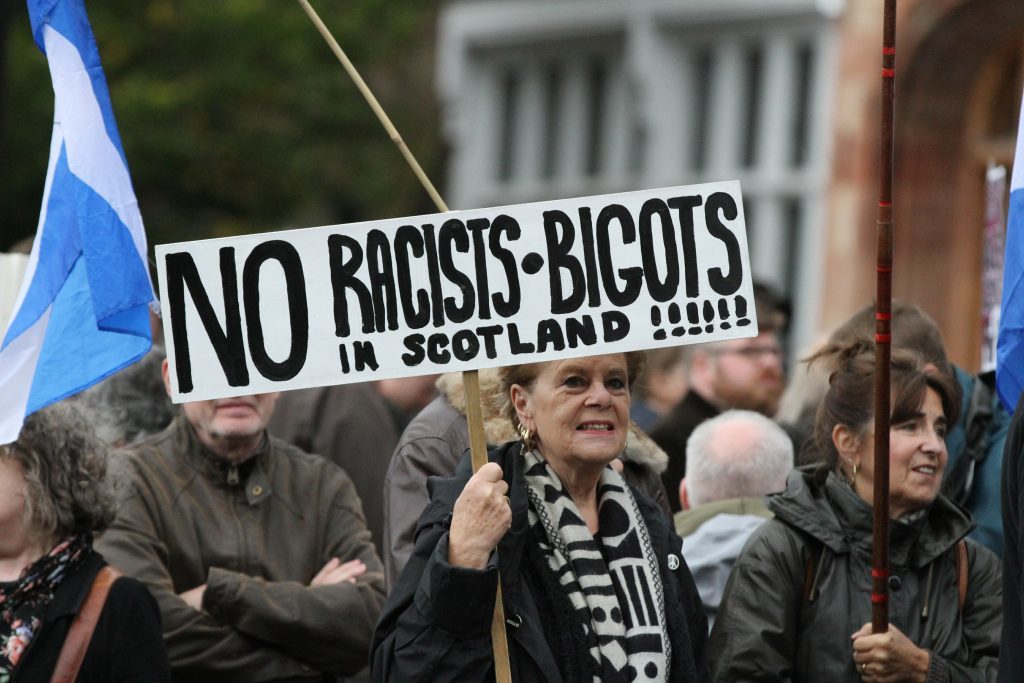 A number of streets were closed off in a bid to avoid confrontations between the two sides.
Man arrested following SDL rally and counter-protests in Perth
There were several flash points, most notably when a bus carrying SDL members from the north-east of England was turned away from Perth railway station as hundreds of protestors from anti-fascist groups expressed their disgust.
And the atmosphere again almost turned violent when police on horseback blocked in a faction of left-wing campaigners in South Street. The youths dispersed but then let off a smoke bomb.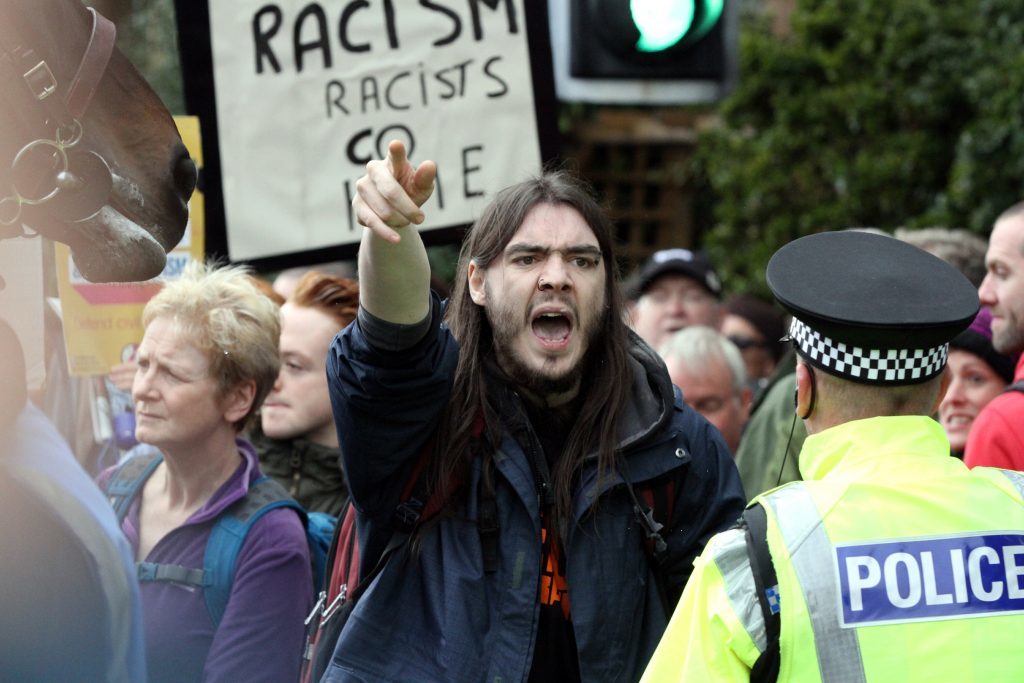 A 25-year-old man, who was not a member of the SDL group, was arrested in relation to a breach of the peace and will appear at Perth Sheriff Court at a later date.
The anti-fascist groups, which included around 400 people, marched from Perth railway station at 1.30pm and were then contained in South Street. This allowed police to hold the SDL members at the Glasgow Road entrance of the station until 2.40pm when they proceeded to walk into the city centre, accompanied by dozens of police officers.
VIDEO: "Amazing numbers" line Perth's streets in counter-protest against far-right SDL
Many local residents shouted abuse at the SDL with tempers flaring, but police managed to quell any signs of violence quickly.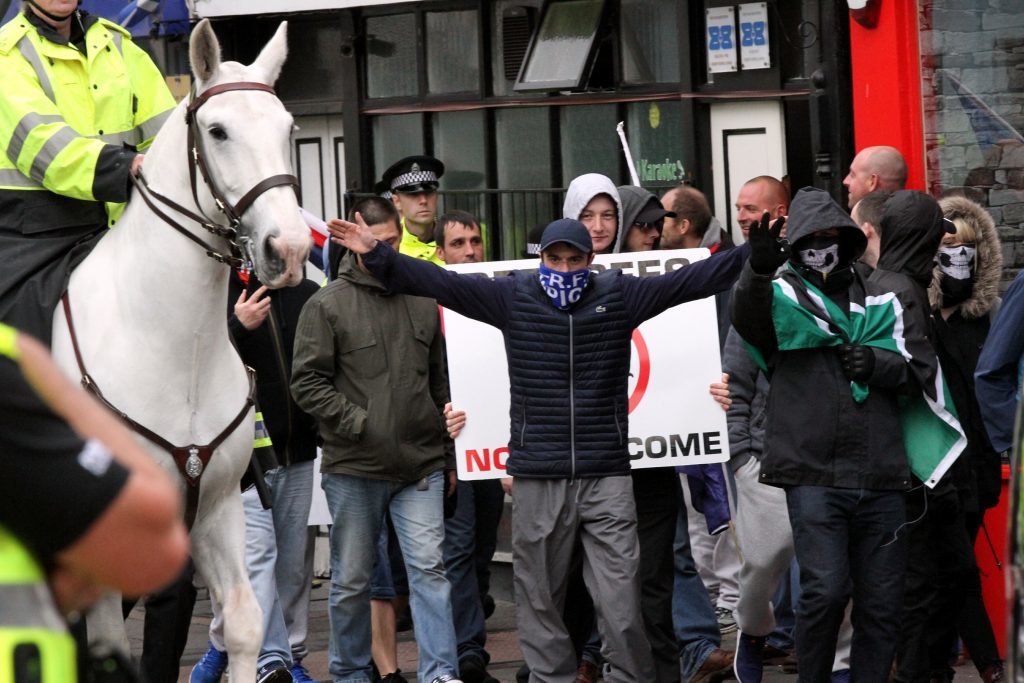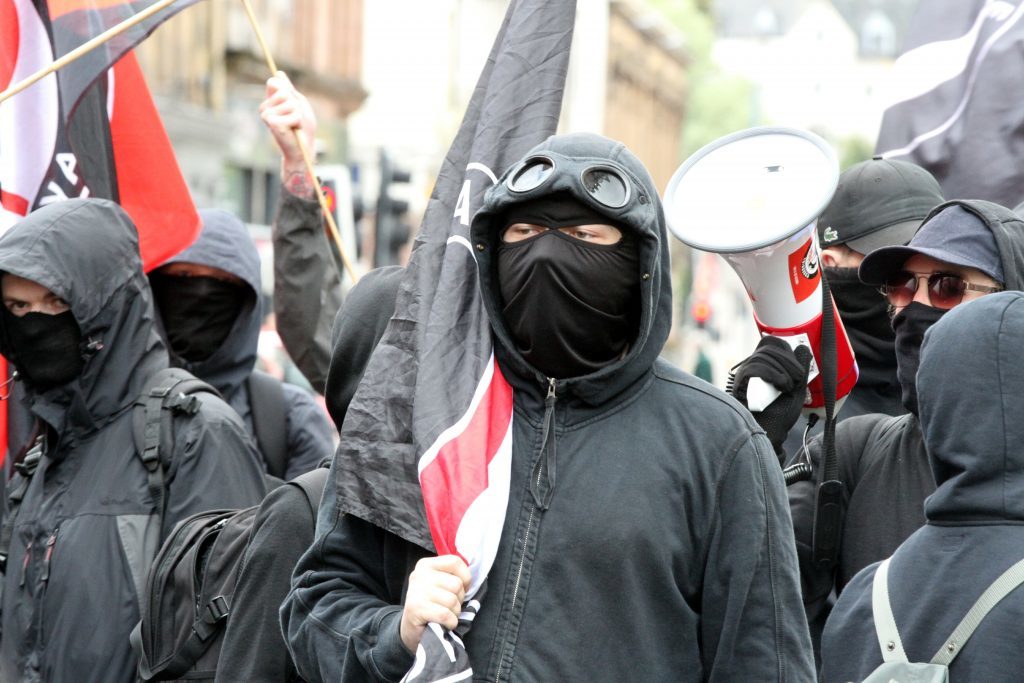 Pete Wishart, MP for Perth and North Perthshire, and Alex Rowley MSP, deputy leader of the Labour Party, both took part in the rally into Perth city centre.
Mr Rowley said: "I am proud to be here to show my opposition to fascist groups."
And local Councillor Willie Wilson added: "This kind of event is alien to Perth. I don't think Perth has seen the like before."
Meanwhile, Doug Haywood, 43, had travelled with a group from Aberdeen to oppose the SDL.
"We had three cars full of people and some came to Perth by train," he said.
"This is to show that Perth is against racism."
And Ann Brown, 51, of Perth, said: "Perth booted Oswald Mosley back in 1936 so we want to do the same to the SDL today."
Hamish Drummond and Mike Arnott, of Dundee Trades Union Council, both said they felt they had to attend to show their feelings about the SDL coming to Perth.
"The SDL are responsible for all these people turning up here today to oppose them," Mr Drummond commented.
An SDL member, who gave his name as Jamie and wore a skull mask, said: "We have the right to be here today — it's freedom of speech. If all these left-wing groups can gather here why can't we?"
Chief Inspector Ian Scott, area commander for Perth and Kinross, said there were no major problems or criminality during or following the event.
"There was some disruption to traffic in the city centre, which was unfortunate but unavoidable and public safety was maintained throughout," he said.
"The vast majority of demonstrators worked with police to voice their rights of free speech, whilst respecting the local community."
He added there had been one arrest for a public order offence.