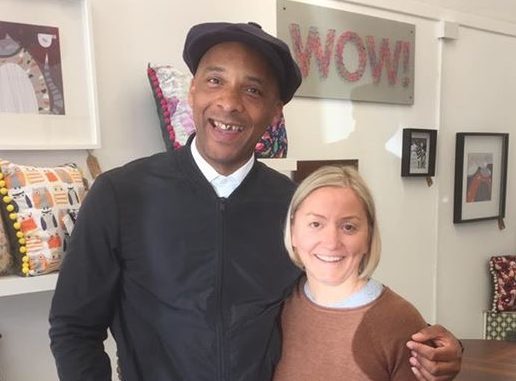 Perth-based designer Sarah Peterson makes her small screen debut this week on the popular BBC programme Money for Nothing.
Renowned for creating art glass commissions for, among others, the royal family, her face will become familiar to viewers in the coming months.
Sarah now concentrates on "upcycling" furniture and her recent work caught the eye of the programme's producers who invited her to join their team of designers.
She hosted the team, including presenter Jay Blades, at her store Sarah's Attic on Princes Street.
Her first television task is giving a new lease of life to a gold medal winning paralympic athlete's team uniform by altering it to see if she could make a profit for a celebrity's chosen charity.
Although Sarah has now completed a number of filmed projects for the television show that will be aired in the coming months, her on screen debut will be shown on Thursday September 14 on BBC 1 at 4.30pm when her  transformation of the suit will be revealed.
"Although initially I was quite nervous about appearing on a BBC network television show I am now loving it," said Sarah.
"I enjoy the challenge of being given a variety of projects and materials to work with and breathing new life into unwanted and unloved items."
Her first step into retailing with her partner Alfie Iannetta was a small concession within the old Watsons of Perth before they moved to Princes Street.
Mr Iannetta believes the exposure from Money for Nothing should be good for Perth.
"We've really enjoyed having the show's presenters and film crew here in Perth," he said.
"They all loved our shop and what we are trying to do but the real bonus is that they all now love coming to Perth, already have their regular favourite eatery, have taken walks along the river and taken time to go out and about and film how beautiful Perth is."