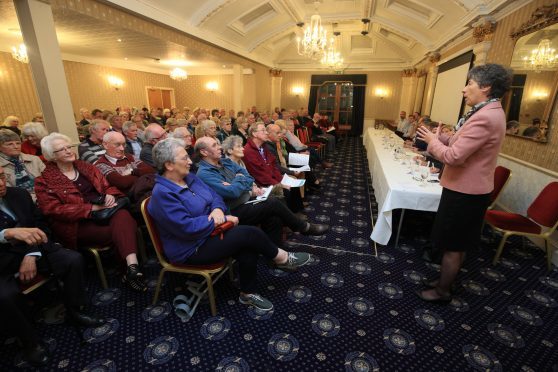 Perth Royal Infirmary has a "secure and stable future" at the heart of health care provision, a packed public meeting was assured last night.
However, as a major redesign of NHS Tayside is under way to meet the challenges of the future, the services offered there will undoubtedly change, they were told.
Around 100 members of the public attended the meeting in the Royal George Hotel which was organised by MSP's Liz Smith, Murdo Fraser and Alexander Stewart and welcomed a top table headed by health board chairman Professor John Connell.
Ms Smith said that health care topped the list of the concerns of their constituents and could be put into five categories – fears that PRI will be downgraded, concerns over the number of GPs,  complaints over the service to rural communities,  concern about Murray Royal Hospital and calls for more to be done for patient transport.
Professor Connell said a major reason for the attendance of himself and his senior colleagues at the meeting was to listen to the concerns of the public.
"We want to understand what your concerns are," he said.
He set out the background against which NHS Tayside was operating and said that changes to health services were fundamental to meeting current and future needs.
"The changes are unprecedented in scale and pace," he warned.
He said that the progressive rise in population in Tayside and the demographic shift to a significantly older population would inevitably put a strain on services.
Professor Connell said that medical treatment had "changed out of all recognition" in recent years which also fuelled the requirement for a rethink in how services were delivered.
The need for significant numbers of school leavers to opt for health or social care as a career was vital and Brexit would have an impact on staff recruitment.
Against this background he said it was only right that there should be moves to centres of excellence in certain fields which might require the public to travel a bit further for treatment.
"I would rather travel 100 miles to get the right treatment rather than get the wrong treatment next door," he said.
Professor Connell said it would be "horses for courses" with centres for definitive treatment in a field emerging.
In redrawing how services are delivered he said there were two core values  – patients were at the heart of every decision and delivering services safely.
The panel fielded questions from the floor on a number of topics and Dr Andrew Russell,  NHS Tayside medical director said that collectively – the public and health professionals – would shape a service that could tackle  "the hard facts about population change".