The historic birthplace of Scottish whisky has been revived after more than 500 years.
Crime writer Ian Rankin cut the ribbon on the £7 million new distillery and visitor centre at Lindores Abbey, near Newburgh.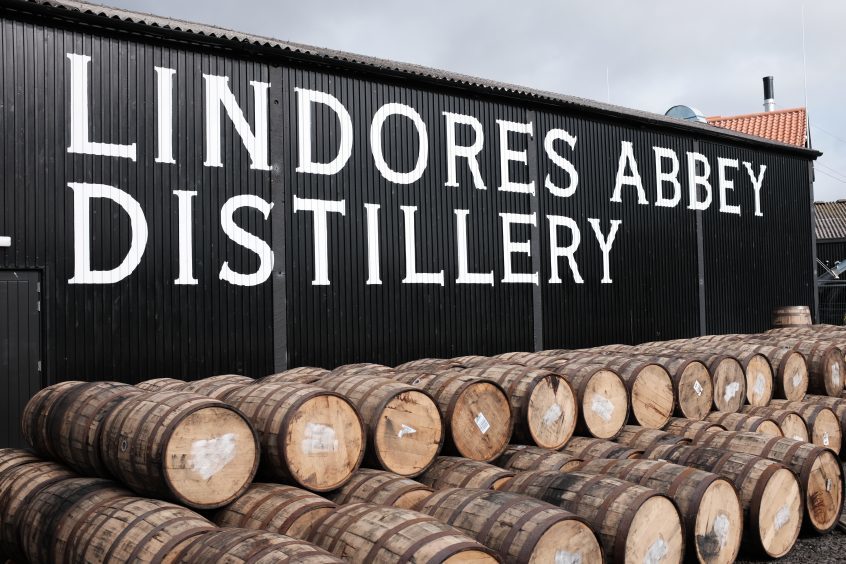 In 1494, the abbey entered the history books with the first recorded drop of "aqua vitae", or water of life. Friar John Cor paid duty on eight bolls of malt to make whisky for King James IV.
And now the water of life is set to flow at Lindores again.
Drew McKenzie Smith and his wife Helen, custodians of Lindores Abbey, took the wraps off the new centre in a ceremony on Thursday hosted by author Rankin who, as well as giving the world Rebus, is something of a whisky enthusiast.
The Cardenden-born writer said: "This is an extraordinary building and extraordinary project."
Rankin said he developed a love of whisky when he joined an American friend on a distillery tour of Scotland.
"It was the first time I really got the taste for whisky, malt whisky in particular," he said. "But the one thing which was missing then – and I think Lindores Abbey is going to help with – is something I came across in France: Terroir.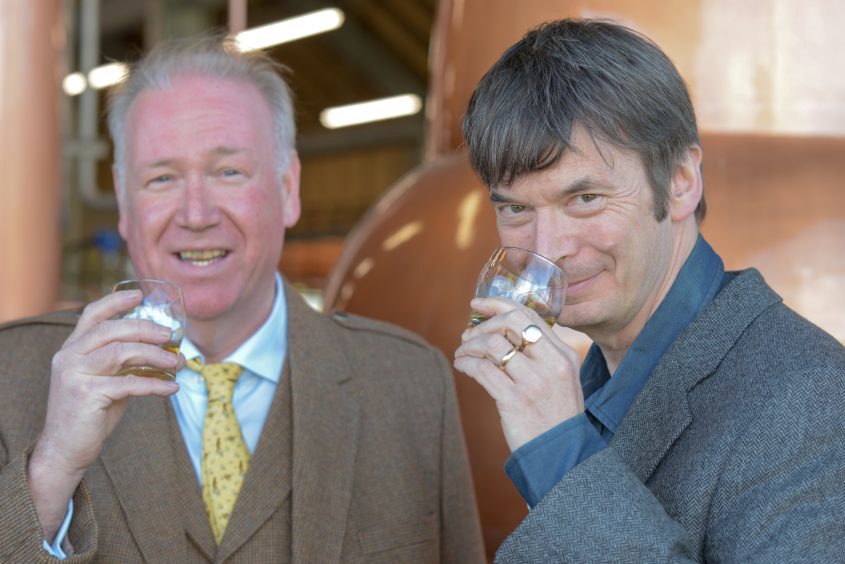 "It's this beautiful French word which is used by wine-makers. It tells you that the wine is not just a drink. It tells you it's a philosophy, it's a feeling and its connected to the land, the people and history.
"It's something we've not done much of with Scottish manufacturing in general, but this wonderful building and the story that it tells, lends itself to that notion of terroir."
Mr McKenzie Smith said: "20 years ago, when I first read the earliest written reference to Scotch whisky distillation in Scotland, it changed my life and gave me the purpose and ambition to preserve Lindores Abbey for generations to come.
"The late, great whisky writer Michael Jackson wrote of Lindores Abbey: 'For the whisky lover, it is a pilgrimage.'
"So we are honoured today to share our vision for the future and the award-winning Lindores Abbey single malt which will safeguard this tranquil site of historic significance."
Set on the banks of the River Tay, Lindores Abbey – which means Church by the Water – was founded in 1191.
William Wallace once rested there following the battle of Black Earnside in 1298.
The Abbey has been a ruin since 1559, when it was sacked at the behest of reformer John Knox.
The centre will commence distillation of its first spirit in October, using 100% Fife barley. The distillery has three unique stills, four traditional wooden washbacks and a two tonne mash tun.
Around 150,000 litres of spirit are expected to be produced each year, which will be stored in Woodford Reserve and Old Forester bourbon barrels from Kentucky.
Abbey bosses faced trademark battle over name
The often turbulent journey to secure planning consent was relatively smooth for abbey custodian Drew McKenzie Smith, with no opposition from the public.
However, he revealed the project was nearly derailed by a bizarre copyright war with one of the world's best loved chocolate manufacturers.
Launching the new centre, Mr McKenzie Smith said: "We rekindled the project about five years ago, only to face a potentially disastrous situation.
"When I though the project wasn't happening, I no longer needed the Lindores trademark so I let it lapse."
With the scheme was back on the cards, Mr McKenzie Smith applied to re-establish the trademark. "I then received a very stern letter from the lawyers of Lindt chocolate," he said. "They objected to the use of Lindores because it may cause confusion amongst their consumers."
One of the Swiss-based chocolatier's most successful brands is its Lindore chocolate balls.
"I have to say, I do like whisky and I do like chocolate, but I never have any difficulty differentiating between the two," said Mr McKenzie Smith.
"Somewhat flabbergasted, I pointed out that Lindores Abbey was built in 1191 by David Earl of Huntington, on land gifted to him by his brother the King of Scotland. And whilst Lindt do make nice chocolates, they were founded in the 19th Century and there really is no comparison.
"To their credit, the lawyers backed off and all I had to do was promise not to make chocolates filled with our whisky."