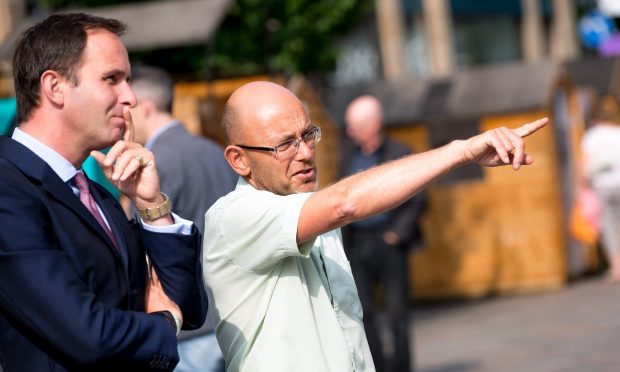 Superstar designer Wayne Hemingway has struck a new deal to help shape the future of Perth.
The style guru who supported the local City of Culture campaign has agreed to stay on board to oversee regeneration projects over the next year, including the multi-million-pound transformation of Perth City Hall.
He has signed a new £12,000 contract to advise on the "design, procurement and delivery" of the Perth City Plan, a blueprint for the next 20 years.
The Red or Dead founder, who is a professor of Built Environment, will once again work closely with the Perth City Development Board, which put together the masterplan.
He said he wants to build on ideas for improvement raised during the ultimately unsuccessful Perth 2021 campaign.
"The City of Culture bid was full of exciting ideas and full of energy," he told The Courier. "I am looking forward to being part of a team that can help to keep this energy alive and help deliver some tangible outcomes."
The 2021 bid looked at ways of using culture to breathe new life into the area and address connectivity issues, where people living in rural areas said they felt detached with city life.
New cultural projects – including high profile transformations of city hall and the Perth Museum and Art Gallery – aim to lure more visitors to the area, as well as retaining local creative talent.
Council leader Ian Campbell said: "The council previously supported the appointment of Wayne Hemingway to help develop urban design and cultural proposals in the Perth City Plan in collaboration with the Perth City Development Board.
"Wayne helped support the development of proposals to make greater use of the city's vennels and public spaces and has engaged with the local design and creative communities to help drive forward our ambitions to make the city an attractive, exciting and vibrant place which nurtures creativity and innovation."
He added: "The council is pleased to continue to be working with Wayne Hemingway and the board."
John Bullough, who chairs the development board, welcomed the re-appointment. "Wayne's knowledge and experience of urban design and cultural and community empowerment are helping inform us in relation to the development of public space and building design and creating opportunities for events, public art and emerging business and social enterprises.
"The Perth City Development Board recognise that having a fresh perspective and objectivity it incredibly valuable as we work together to make this exciting plan a reality."
Mr Bullough added: "Wayne has already demonstrated a close affinity with Perth and he shares our collective passion to make Perth a great small city."