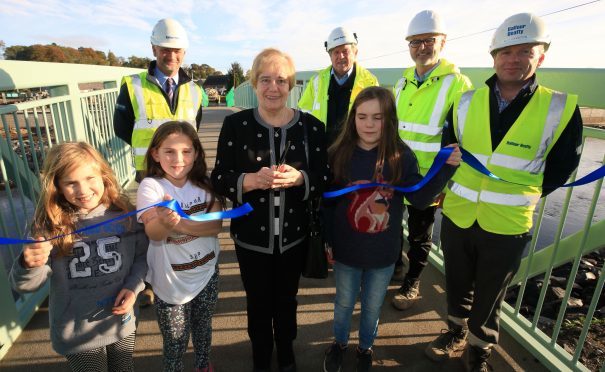 A new bridge has been opened as part of £14.7 million flood defence work on the outskirts of Perth.
The bridge, which will be used by pedestrians and cyclists, replaces the former Black Bridge at Almondbank which was destroyed in a severe flood in 1993.
Perth and Kinross Council is still carrying out flood defence work in the area, with the overall project due to be completed by spring next year. More than £11 million of the funding has come from the Scottish Government.
The extensive programme has seen flood walls installed at Black Bridge, Deer Park, Craigneuk and Low's Works Cottages. There have also been improvements to the drainage system in Main Street, Almondbank, and the outfall to the River Almond.
In addition, flood defences were improved at Almondbank Bowling Club along with rock armour embankment protection built to a section of the River Almond. Foundation works have also taken place on the Lochty Bridge.
Commenting on the landmark opening of the new bridge at Almondbank, local resident Phil Hannah said: "The new bridge over the River Almond was recently opened to pedestrians and cyclists at Almondbank, as part of the flood defence work.
"For several months residents have had to make a wide detour around the village to get to the bus stops and Post office but the bridge shortens the distance considerably.
"The new structure replaces the older foot bridge which was put in place in 1996 by the Army to replace the original bridge, or Black Bridge  as it was known,  which was destroyed in flood waters in 1993."
The local authority also employed contractors to prevent riverbank erosion in the area. This centred on three spots behind Lawgrove Place at the Inveralmond Industrial Estate.
The repair work involved reinstatement and protection measures, as well as the repair of a pumping station outfall.
The Almondbank area suffered problems from the River Almond and East Pow Burn with serious flooding experienced in 1993, 199 and 2011.