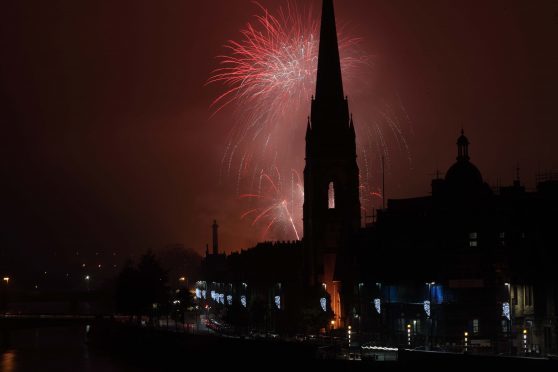 Thousands will gather to watch bonfires burn and fireworks burst as Perthshire communities stage three days of Guy Fawkes celebrations.
Major events will be held in Perth, Crieff, Coupar Angus and Blairgowrie, while countless smaller displays will also take place.
The biggest will be Perth's annual Round Table Charity Bonfire and Firework Extravaganza on Sunday November 5 at which hundreds are expected.
The event has once again been organised by the volunteers of Perth Strathearn Round Table, with assistance from Perth and Kinross Council and Perth Common Good Fund.
This year it will be held on both the Lesser and South Inch and in the city centre as it becomes one of the biggest and boldest November 5 bashes to be held locally.
Live bands will provide the soundtrack for a funfair and street vendors from 6pm, before the lighting of the bonfire at 7pm.
Perth and Kinross Provost Dennis Melloy will then step forward to set off a spectacular fireworks display at 7.30pm.
Event organiser and Round Table member Paul Sharkey said: "As a safe and family-centred event, people of all ages are invited to come along to the Fair City and join us all in having a fun night.
"All the while, you will be supporting your local Round Table and many good causes."
The guy for this year's event has been lovingly created by the children at Fairview School.
Crieff Round Table will host its annual Guy Fawkes Night celebration on the Market Park on Saturday.
Gates open at 6.30pm, with the bonfire lit at 7.15pm and the fireworks at 7.30pm.
Hundreds are also expected at the annual Blast in Park fireworks display in Coupar Angus on Friday evening.
As well as the firework display – created by the award-wining Blast Design – there will be a funfair and the return of the town's fire-breathing dragon.
The town's event, which has once again been organised with the help of Coupar Angus and Bendocy Community Council, starts at 7pm at Larghan Park.
For the first time in ten years, Blairgowrie also hopes to join the party with its own bonfire and fireworks display.
Many locals traditionally make their way to Larghan Park for the neighbouring town's event but community councillors want Blairgowrie to have its own event.
Though it will start out small, organisers hope the display will grow year by year – though they have admitted they need help to make the first go with a bang.
Following a series of funding setbacks, Blairgowrie and Rattray Community Council has started a fundraising page in the hope of securing the £6,500 needed to stage the fireworks display, create a town nativity scene and erect a Christmas tree.
No matter the success of that effort, the town will light a bonfire on Saturday.
The fundraising page can be found at www.justgiving.com/crowdfunding/brcclocalevents.
Admission to all the events is free but donations will be welcomed to support the running of next year's events and to benefit a range of local causes.