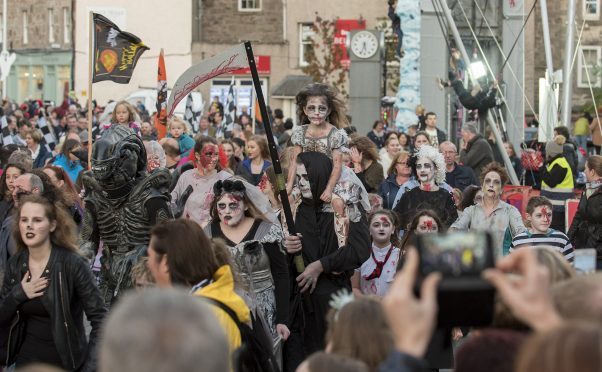 Council chiefs are probing a Halloween horror accident in Perth city centre.
Two people escaped serious injury when a zip slide collapsed during a Winter Festival party at the weekend.
The ride – dubbed the Halloween Screamer – was set up along the High Street as part of the city's annual October celebrations, which drew thousands into the area for a packed programme of live music and horror-themed attractions.
The accident happened towards the end of the Saturday night event.
Two young people were on the ride when it crashed. The pair were understood to be near the end of the ride, at a low height, when they fell.
One on-looker said they did not appear to be badly hurt and walked away from the ride without taking medical assistance.
The zip slide was immediately shut down for the rest of the night.
The Halloween event was organised by Perth and Kinross Council, although the zip slide was provided by a third party.
A spokeswoman for the local authority said: "We can confirm that there was an incident involving a two-person zip wire supplied and operated by Mobile Zip Wire Hire at the Perth Halloween event on Saturday.
"The incident occurred when two participants were positioned towards the end of the zip ride at a low height."
She said: "The zip wire was closed immediately after this incident.
"The zip wire operator had provide the council with copies of their public liability insurance and risk assessments in advance of the event. As with any incident, we are reviewing the circumstances and will take on any issues raised to improve future events."
No one at the company could be reached for comment.
The double zip wire, which proved popular at last year's event, allowed two people, wearing protective headgear,  to slide down at the same time.
The ride stretched across a large section of the cobbled High Street and past several shops.
The Halloween party is a key element of Perth's Winter Festival.
This year's show was one of the biggest of its kind, with two stages of live music featuring tribute acts to the likes of Oasis and Queen.
The evening kicked off with a fancy dress parade through the city centre.