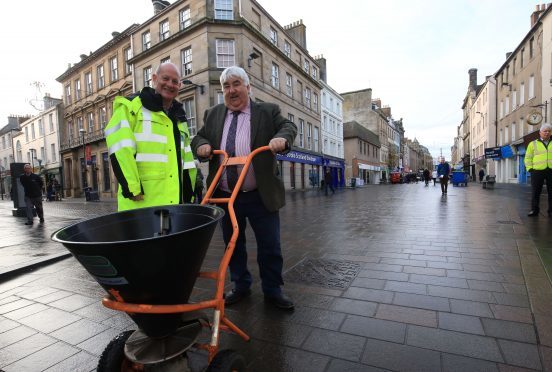 Residents across Perth and Kinross are being urged to take on responsibility for gritting their own pavements and footpaths this winter.
Council chiefs put out an appeal for volunteers, saying a community effort would help free up workers to tackle the highest priority routes as temperatures begin to fall.
Push-along gritters, high-visibility waistcoats and training will be offered.
Perth and Kinross Council said volunteers would not be expected to put themselves at risk and would not be held liable, provided they had acted "reasonably and in accordance with the guidance".
But the Taxpayers' Alliance said it set a "dangerous precedent" and suggested residents would be wondering why the council could not run its own service without relying on them to give up their time.
The council stressed the move is ancillary to its own work, which will not be scaled back as a result.
Councillor Ian Campbell, leader of Perth and Kinross Council, said the authority had a massive area to cover during the colder months.
"Perth and Kinross Council's winter maintenance policy for roads and pavements is based on a priority system, aiming to provide as broad coverage as possible and minimise the impact of bad weather," he said.
"The responsibility for the roads and footpath network is huge and any assistance that can be provided by the local community is always welcomed."
A council spokesman stressed the role would be purely voluntary and that volunteers would not be expected to put themselves at risk.
He added that there will be no specific time requirements for treating the agreed sections and no expectation of the volunteers to be out in severe weather conditions.
They would not be liable provided they have acted "reasonably and in accordance with the guidance."
Taxpayers Alliance chief executive John O'Connell said: "Perth and Kinross taxpayers will be wondering why their council can't provide this service without relying on people to give up their time.
"The maintenance of roads is a basic function of local authorities.
"Providing training for a service it already does starts a dangerous precedent for duplicating work, and encouraging a poor use of taxpayers' money."
The Met Office has warned the UK faces the chill winds of La Nina this winter, bringing Arctic-like conditions.
La Nina is a climatic event which happens as part of a weather cycle when temperatures in the Pacific Ocean drop below -0.5C.
Anyone wishing to help can phone 01738 475000  for information.