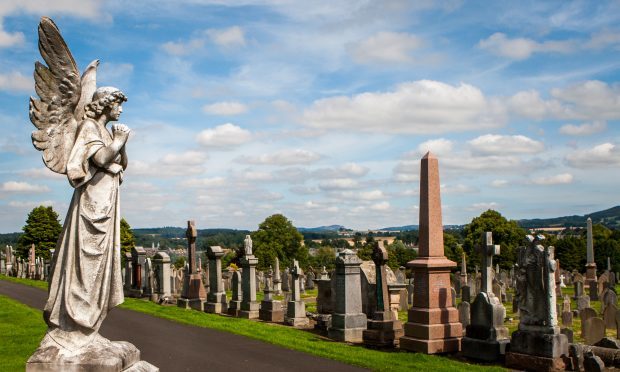 A grave space shortage in Perth has triggered plans for a new cemetery on the edge of the city.
As council chiefs prepare for thousands of new homes to cope with a soaring population, the search is on for a new place to bury the city's dead.
It will be Perth's first new cemetery in more than 170 years.
A new study has revealed that historic Wellshill Cemetery will reach capacity within the next 20 years.
Perth and Kinross Council officials say a new site of about 20 acres will be needed to serve the city.
Farmland off Isla Road, south of Scone Palace, has been identified for the new graveyard.
A ground assessment will be carried out at the site in the new year. If the land is deemed unsuitable, the local authority will consider two other locations which form part of the Perth West development.
The alternative sites are both off the A9, west of Broxden.
All three sites look likely to be included in the council's revised Local Development Plan, which will go before councillors for approval on Wednesday.
The document, which revealed plans for housing and leisure facilities at an ageing Perth quarry, sets out a masterplan for development over the next decade.
It further identifies the need to search for more cemetery space around Milnathort and at neighbouring Blairgowrie and Rattray.
A local authority spokesman said: "There is currently an identified need for a new cemetery within the Perth area, as Wellshill Cemetery will reach capacity within the next 20 years.
"A site of around eight hectares (20 acres) is likely to be required to serve the Perth area."
He said: "Whilst Isla road was the preferred option, investigations are not well enough advanced on the assessment of ground conditions to determine if the land is suitable for cemetery use.
"As a result, it is proposed to identify both locations – Isla Road and Perth West – within the proposed LDP as areas of search for cemetery provision."
Wellshill Cemetery was opened in 1844 at Dovecot Lane, about a half-mile from the city centre, and has expanded north over the decades.
It took over part of the old Jeansfield Recreation Ground in the later 20th Century.
The cemetery includes graves managed by the Commonwealth War Graves Commission, as well as the resting places of 350 Polish soldiers who died while defending Scotland from the Nazis.
Other notable people buried at Wellshill include poet William Soutar and Alexander Thompson, who won a Victoria Cross in India.
The council also operates cemeteries in Kinnoull, Scone and Kinfauns.