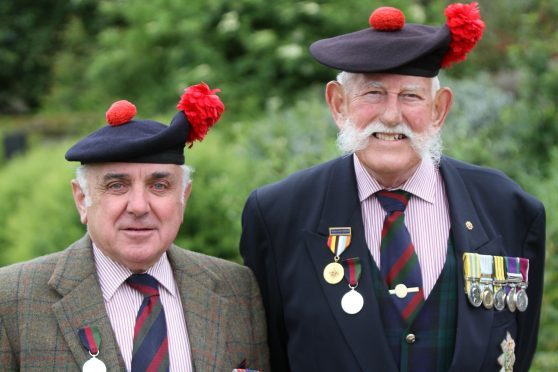 Tributes have been paid to an "iconic" Black Watch veteran who has passed away.
Former Black Watch company sergeant Joe Hubble spent 27 years with the famous regiment before becoming a Yeoman Warder at the Tower of London.
Mr Hubble, 84, was known to have close ties with the late Queen Mother and the Royal Family. He was often assigned as regimental escort to the Queen Mother when she visited The Black Watch.
The legendary figure was a regular attender at Remembrance Day parades at the Cenotaph in London and also visited several military ceremonies in Flanders.
He served in the 1st Black Watch in Germany, Korea, Kenya, Cyprus, Oman and Northern Ireland, from 1950 to 1977. Mr Hubble – who lived in the Kent area – then served as a Yeoman Warder from 1979 to 1999.
Ronnie Proctor, former army major with The Black Watch and current Provost of Angus, described Mr Hubble as an "iconic" man.
"Joe was an icon with The Black Watch – he will be sadly missed," he said.
"He was a guy who was respected wherever he went and liked by everyone who knew him – that was Joe."
He continued: "Joe wasn't Scottish but he joined The Black Watch as a youngster. He was such a regimental treasure and was a regular attender at Remembrance Day events at the Cenotaph. He was a great character.
"He became a Yeoman at the Tower of London and then was known to the colonel-in-chief of the regiment, the Queen Mother, and later on, Prince Charles.
"I saw Joe at many Black Watch gatherings – he was a real character."
Many tributes were also paid to Mr Hubble on social media.
A poignant post was made by the Field Marshal Haig's Own Pipes and Drums. It said: "Joe was a larger than life character. He attended many ceremonies in Flanders.
"He will be dearly missed by all who knew him."
Dorian Mead said: "I worked at the Ypres commemorations last year as mobility impaired guest manager. I remember this fine fellow as a true gentleman."
John James Smith posted: "Joe was the only Yeoman ever allowed to wear his uniform outside of the UK when he accompanied the Queen Mother to visit The Black Watch in Berlin to celebrate her 60 years as their commander-in-chief."
And Denise Osler Briden added: "Very sad to hear Joe has passed away. A very good man. He used to give my son a drop of whisky from his hip flask when he got cold at the Cenotaph."