Campaigners have vowed to stage further protests if a taxpayer-owned bank continues to push ahead with planned branch closures.
Hundreds of protesters yesterday gathered outside RBS in Aberfeldy, which is one of dozens earmarked for closure, to protest at the proposed cuts. Many of them bore banners bearing the slogan "RBS: Killing rural communities".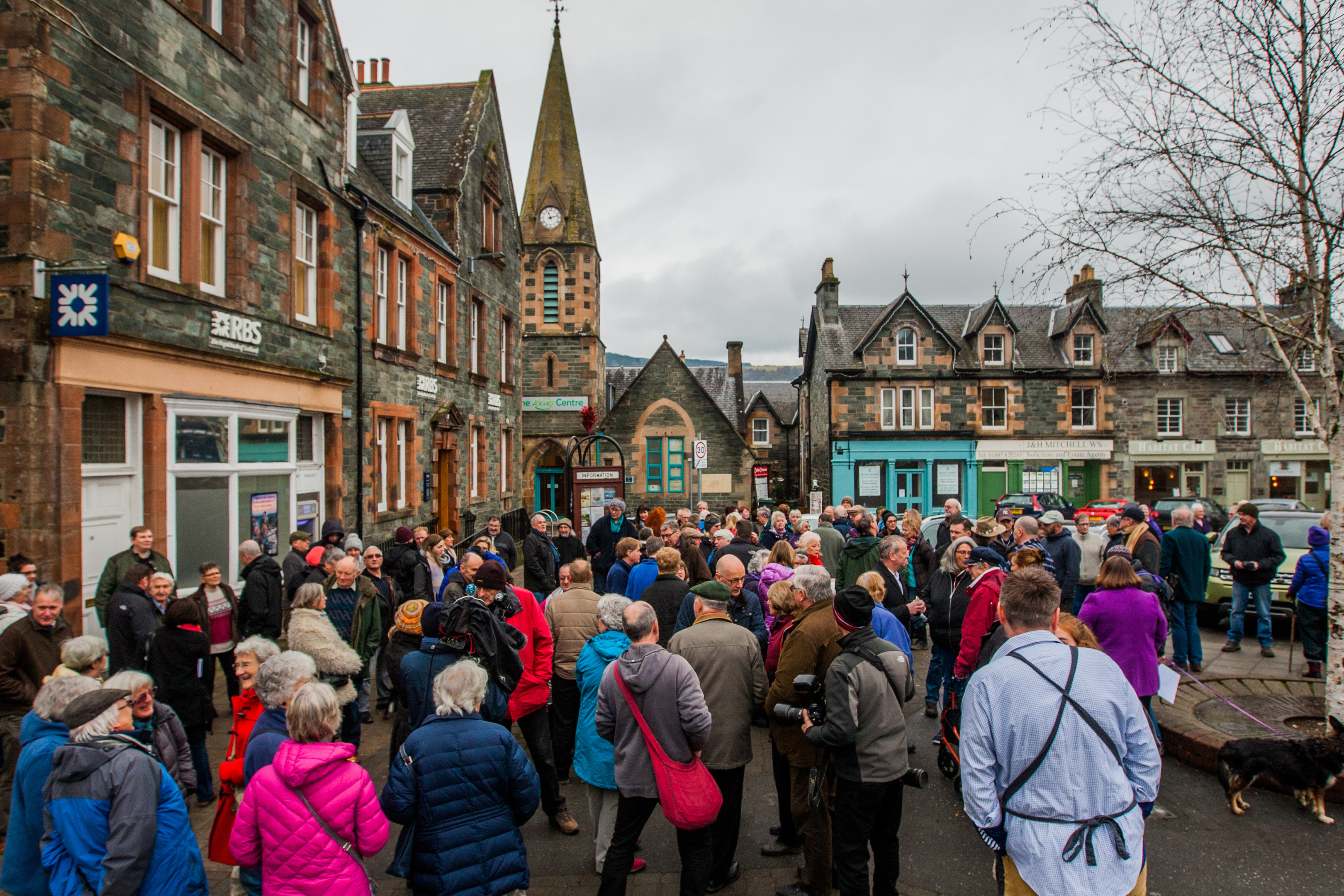 In recent years, the hard-pressed town has already lost its Bank of Scotland branch, its cottage hospital and its police and ambulance stations.
Protest organiser Avril Taylor – who owns the Wishing Well card shop – said she was happy with the overall turnout.
"There were easily more than 100 people here, which was really good," she said.
"I hope this will make RBS listen. It's all that we can wish for – that they will take notice. The community is not going to go quietly, that's for sure.
"This shows them that it wasn't just one person that was worried – the community was united and came together.
"There will be more (protests) if they don't change their mind.
"If they close the branch I will close my account and go elsewhere and try to get another bank to come into Aberfeldy. I'm not giving up."
Local man Steven Dow, who is Aberfeldy born and bred, said the RBS closure would be another step in the slow death of the village.
He said: "I feel very strongly about this. When the Bank of Scotland shut we moved all our accounts.
"It was hard enough when they shut and we had an empty building.
"To lose another bank, as well as our tourist information centre, is killing the village.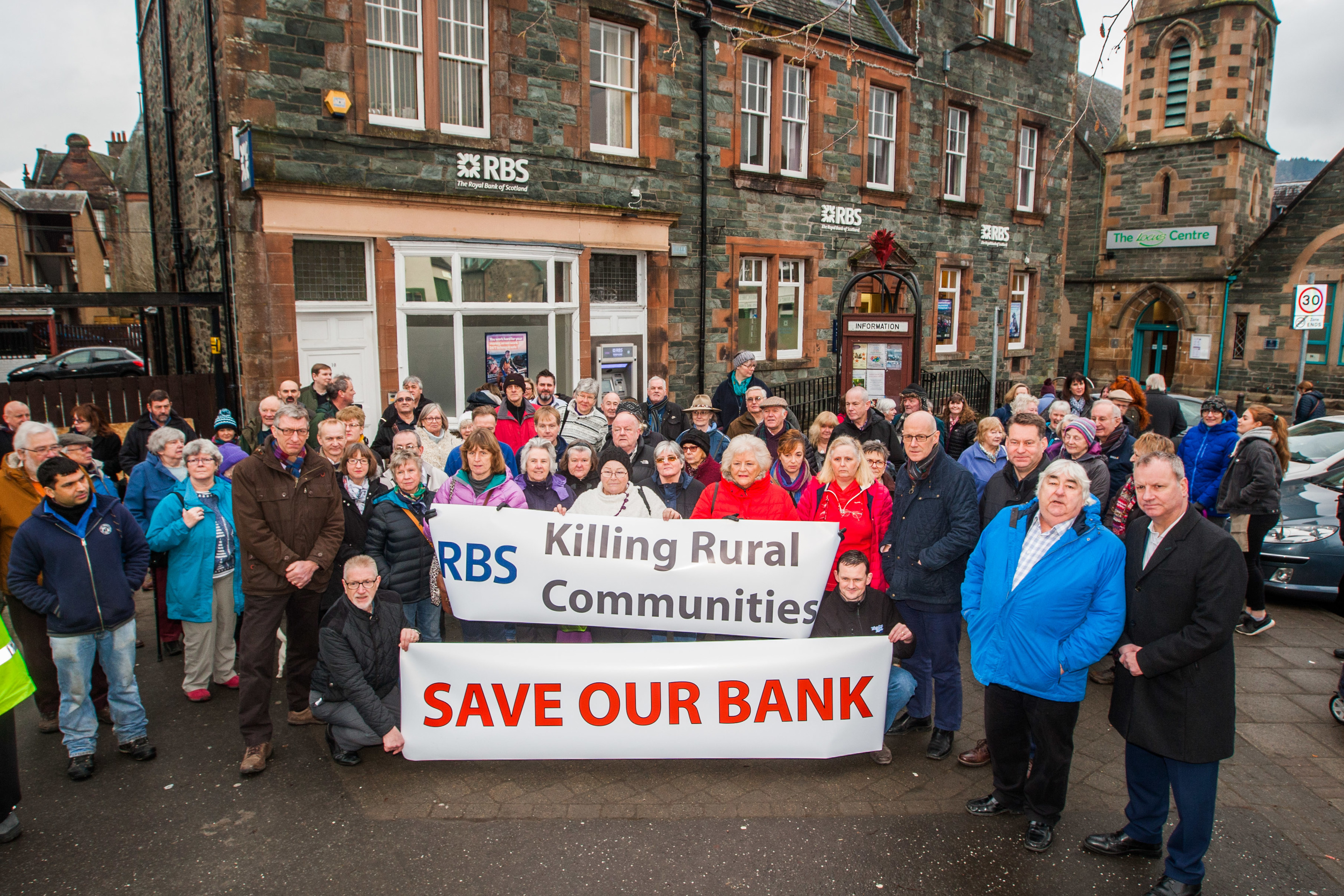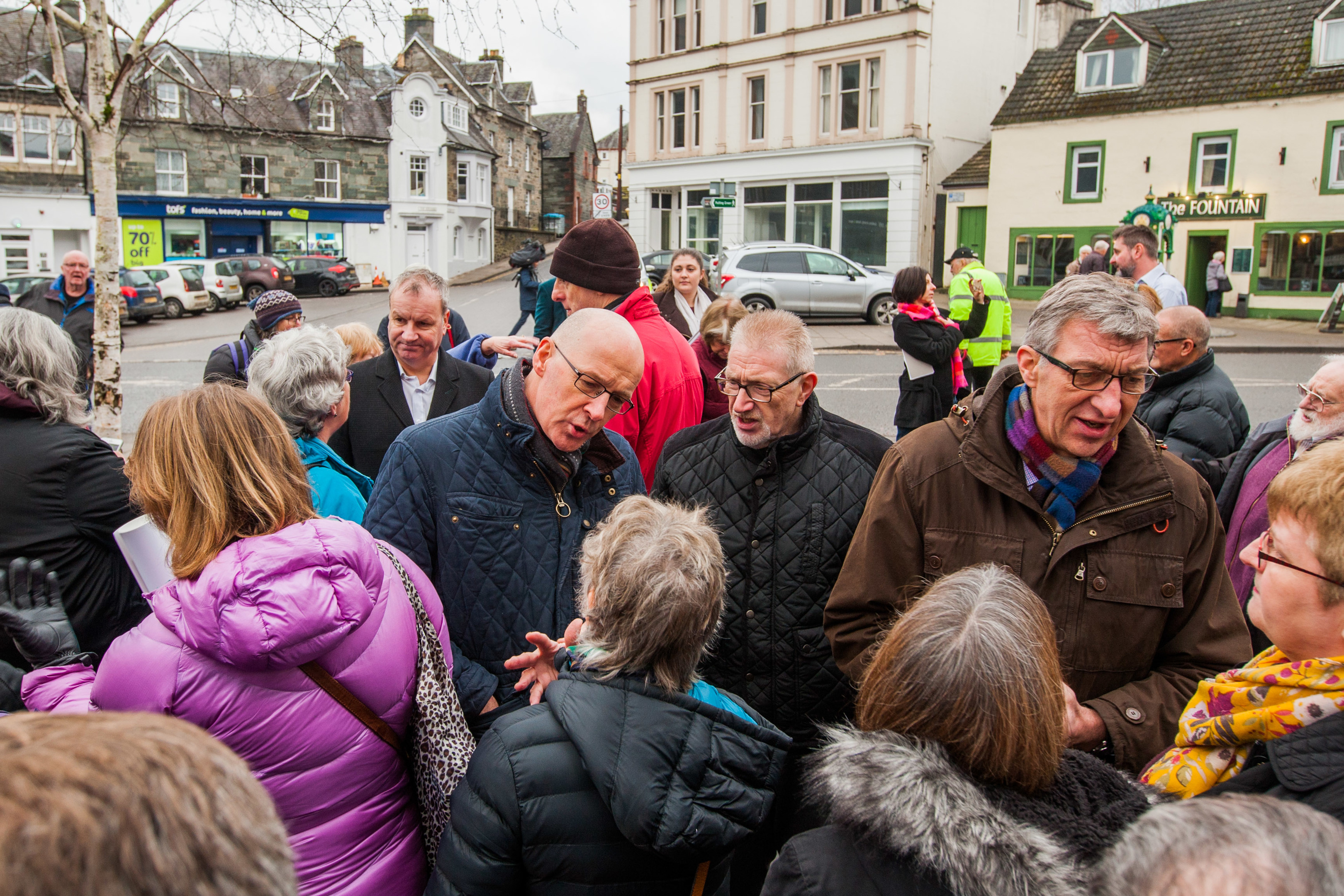 Mr Dow said he has reservations about using the mobile banking service which RBS has promised to replace the Aberfeldy branch.
He said: "I don't want to be standing in the street with a lot of cash, queueing for half an hour or more."
Rod Munro said the bank's closure would upset the fragile economy in the area.
He said: "The rural business community is in the balance and it's a very fragile balance – if something major topples it there's not much to hold it together and small towns like Aberfeldy are very vulnerable."
The protest comes ahead of a Scottish Affairs Committee investigation into the proposed closures of 62 branches in Scotland, including those in Aberfeldy, Alloa, Bridge of Allan, Comrie, Dunblane, Kinross, Perth and Pitlochry.
Locals angered as RBS makes plans to remove Comrie cash machine
RBS has been accused of "rubbing salt into the wound" after it emerged that a Perthshire village is to lose its cash machine as well as its bank.
The branch in Comrie is one of dozens that have been earmarked for closure by the taxpayer-owner bank.
The firm has now submitted a planning application to remove counters inside the building, as well as the external cash machine (ATM).
The loss means the village's residents will be left without 24 hour access to an ATM.
The bank insists locals will not be left in the lurch as there are machines in both the Post Office and the local Nisa store, however since both are closed by 9pm there will be no facility to withdraw cash after that time.
Local councillor Stewart Donaldson said RBS should have made every effort to keep the cash machine.
He said: "Clearly, along with all the other closures in Perth and Kinross, it's going to make things very difficult.
"It's not just the closure of the building, the closure of the cash machine will leave the community bereft.
"If they do indeed close the ATM, that is really rubbing salt into the wound. You would have thought at the very minimum they could keep the cash machine.
An RBS spokeswoman said: "We can confirm we won't be retaining the ATM at Comrie branch, but customers can continue to get cash using their card from their local Post Office, which is very close to the location of the closing branch.
"There will also be two remaining ATMs in Comrie; one in the local Nisa store and a further one in the Post Office.
"A mobile branch will also visit Comrie when the branch closes; the schedule of visits will be confirmed in due course".