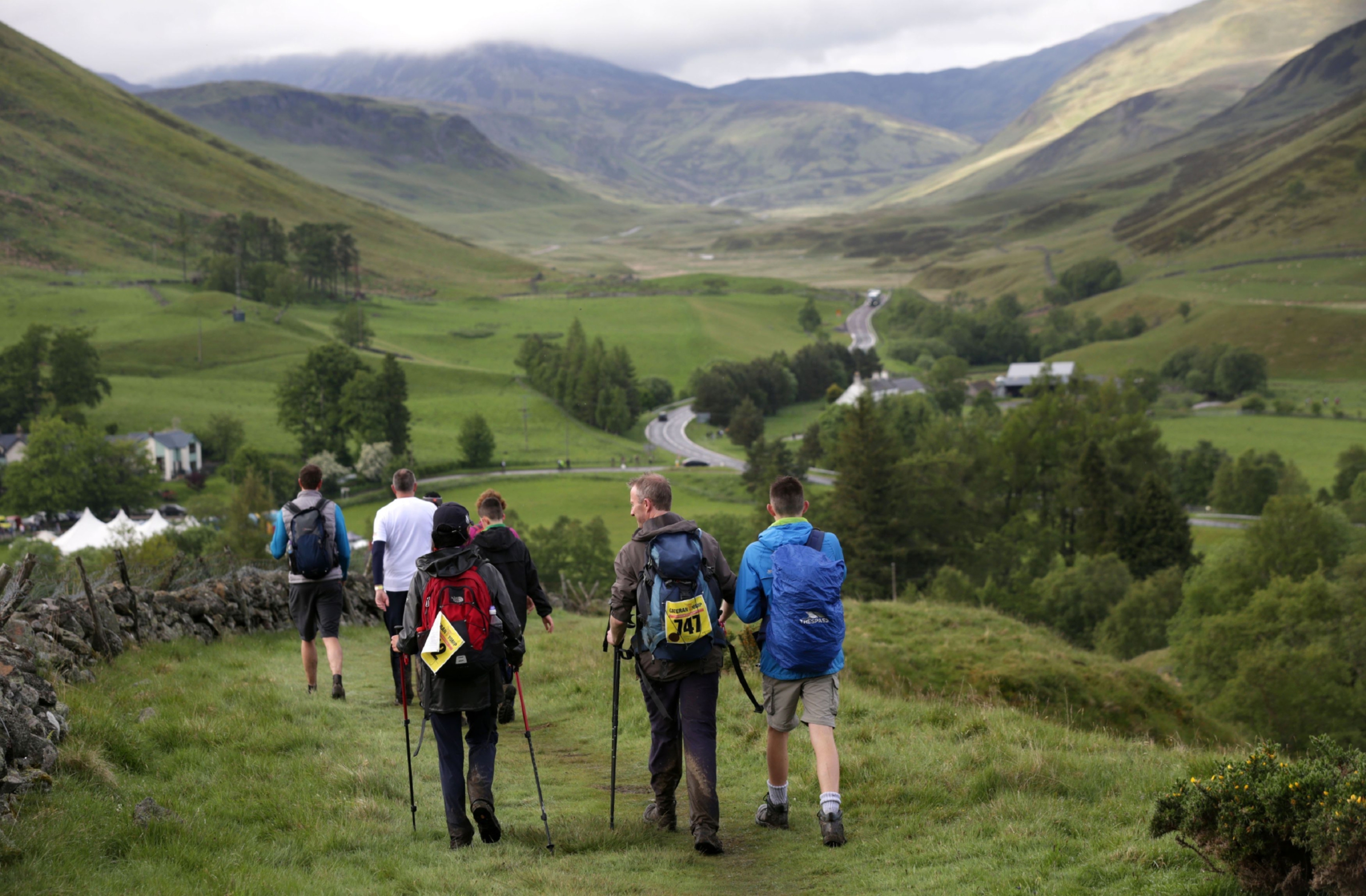 A conservation charity has secured nearly £10,000 to help protect one of Scotland's favourite walking routes.
The Cateran Trail, a 64-mile trek through the Perthshire and Angus glens, forests and moors, attracts thousands of hikers from around the world each year.
Today it is best known for the annual Cateran Yomp, a challenge which raises money to support soldiers, veterans and their families.
Last year, the Perth and Kinross Countryside Trust launched a fund-raising appeal to bring the circuit up to standard, following nearly two decades of use.
Now the charity has secured more than £9,700 from the Suez Communities Trust for repairs which aim to make the trail — and a mini trail at Kirkmichael — more accessible.
The first part of the project involves improving almost 500ft of rough, overgrown path which forms the start of the Cateran mini trail. It will be resurfaced with compacted gravel and the overgrown vegetation will be cut back.
Signs and waymarkers will also be upgraded to help guide walkers across the open hillside.
The second phase will involve upgrading a further 65ft of path, just north of Kikmichael. New drainage will be installed and the route will be coated in gravel to prevent it becoming too muddy in wet weather.
Andrew Barrie, the trust's strategic routes officer and manager of the Cateran Trail, said: "The Cateran mini trail is a circular route connecting Kirkmichael, Lair and Spittal of Glenshee.
"It's great for walkers keen on a shorter, two-day walk and shows off some of the best parts of the whole Cateran Trail. By improving access to it, we hope more people will explore this lovely route."
He added: "The section of Cateran Trail just north of Kirkmichael offers some of the most peaceful and scenic highlights of the whole trail. Sorting out the drainage along the path so that people can enjoy the views, rather than minding their step, will be a great improvement."
Trust manager Morag Watson said: "Maintaining the Cateran Trail, and the mini trail, is a huge task given the length of the routes and remoteness of some sections.
"This funding from Suez is a great resource for us to get some of these serious trouble spots sorted out for the benefit of all trail users."
The Suez Communities Trust, formerly known as the Sita Trust, is an independent funding body set up to provide funding through the Scottish Landfill Communities Fund, a scheme which encourages waste tip bosses to contribute towards environmental and community projects.
Chairman Marek Gordon said: "We were delighted to be able to offer funding to the Perth and Kinross Countryside Trust."