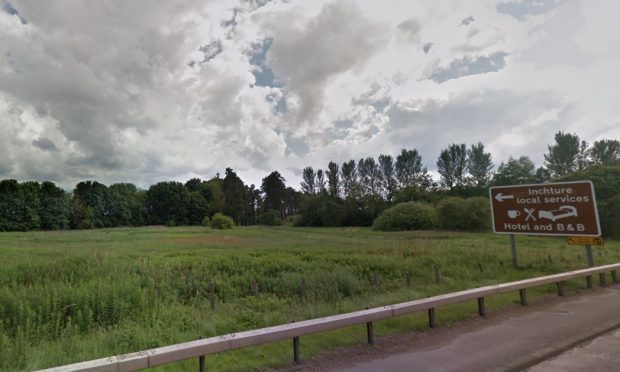 A leading construction firm has slammed controversial plans to build scores of new homes in the Carse of Gowrie.
Muir Homes, one of the largest independent housebuilders in Scotland, is calling for proposals by Hadden Construction to be rejected.
Plans for 66 properties across 10 acres of farmland at Inchture were submitted to Perth and Kinross Council at the end of last year.
The scheme was scaled down from 74 houses after complaints from locals.
The revised plan has failed to allay concerns about "over development", with dozens of fresh objections fired off to planning chiefs.
Many have pointed out the land is zoned for just 16 houses in the council's Local Development Plan (LDP).
Muir Homes, which has also built homes at Inchture, commissioned a consultancy firm to carry out an assessment of Hadden's proposal.
Development and planning consultant James Lochhead said Muir Homes had lodged an official objection over concerns about noise, extra traffic and loss of trees.
"Clearly, the proposal which involves the removal of almost 50% of the existing trees to accommodate 66 houses and associated infrastructure is a clear indication of over-development of the site to the detriment to the local amenity," he said in a letter to planners.
Mr Lochhead added that the scheme could also be prejudicial to Muir Homes. "Muir Homes believe that there is a better alternative location for housing in Inchture, which would not raise such fundamental concerns as has been exposed by the detail of the current application," he said.
The company is also opposing the council's bid to allow more homes onto the site as part of a revised LDP. The plan will be examined by Scottish Ministers in the coming months.
"To approve this would prejudice the right of Muir Homes to present an alternative for consideration through the examination process," said Mr Lochhead.
Hadden Construction has addressed objections in a new letter to the local authority.
Agents for the Hadden Group argued local roads are suitable for the extra traffic and said claims the site is "common land" for the good of the village are a "misconception".
A spokesman for the company added: "The density, scale and massing of the proposals are keeping with those in the village.
"The proposed density is 6.8 dwellings per acre, which is comparable to the current village density of 6.6 dwellings, and significantly less than 7.6 found in the new housing developments to the south side of the village."
The firm's planning application will go before councillors later this year.