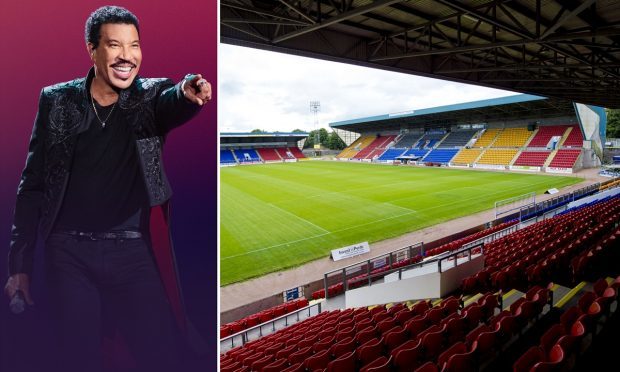 Touts were last night offering tickets for Lionel Richie's summer gig in Perth at almost three times the asking price  – before they had even sold out.
Briefs were still on sale through official channels as online marketplaces StubHub and Viagogo were asking music fans to cough up eye-watering sums for a chance to the see the All Night Long singer at McDiarmid Park on June 3.
Fans were told to purchase briefs from four approved websites — Ticketmaster, Gigantic, alt. tickets and AXS — after they went on general sale on Friday morning at 10am.
However by the afternoon StubHub was offering tickets for re-sale at £285 for row E in the AA6 section of the stadium; while Ticketmaster was  asking for £99.75 for seats in neighbouring row G of the same section. The least expensive seats in this area on StubHub last night were £162.
Tickets for the AA6 area ranged from £283 to  £165.
AA3 tickets in row X were priced at £136 on Ticketmaster, however on Viagogo they were going for £253 each.
The cheapest briefs on offer across all website were £49.50.
SNP MP for Perth and North Perthshire Pete Wishart said he would continue to pressure the UK Government to "work with artists and promoters to encourage them to put measures in place to stop their tickets ending up on these legalised ticket touting sites".
He added: "I am really disappointed to see tickets for the Lionel Richie gig in Perth at hugely inflated prices online, even before the gig has sold out.
"Ticket touting has been legitimised by the presence of these online sites which allow touts to buy up tickets and pass them on for a massive profit.
"If fans are being forced into spending sums vastly higher than the actual ticket price, then it hugely impacts on the cultural economy.
"People don't have the same cash to spend in bars, restaurants and hotels if they have been ripped off for tickets in the first place."
A StubHub spokeswoman said: "StubHub is an online platform that enables people to buy and sell tickets in a free and open marketplace. Tickets are listed and sold by individual sellers, and therefore StubHub does not set prices.
"Only a small percentage of overall tickets available are usually resold on StubHub. Out of the over 10,000 seats at McDiarmid Park, only 16 tickets are currently listed on StubHub for resale."
Viagogo refused to give a statement when approached.
Marshall Arts, who are promoting Lionel Richie's tour, said: "'We advise fans to only purchase tickets directly from an approved ticket partner."
Managers at local hotels and B&Bs said they couldn't wait for the big gig, predicting the city would be "buzzing" around the event.
Peter Gormley, owner of Rowanlea Guest House on Glasgow Road, said: "We are fully booked already, it's been very busy. Not just as a B&B owner but as a Perth resident all my life, this concert is great for the community."
Manager of Perth's Grampian Hotel Mandy Kerr added: "We will be busy. I am buzzing for it, I think it will bring a good atmosphere.
"It is going to be brilliant. I think it will be like that in Perth the whole weekend."