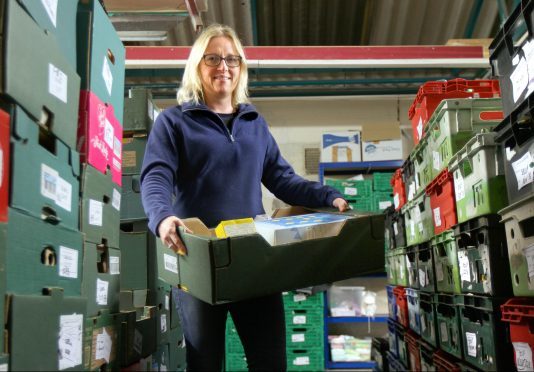 An under-pressure foodbank charity has been saved from closure after a £10,000 lifeline from council chiefs.
The Perth city centre service was left facing an uncertain future amid growing money worries.
Chairman, Rev Michael Archibald, made a plea to the local authority in November, asking for a contribution towards the group's hefty £14,000 rent. But he was initially told no money was available.
Now Perth and Kinross Council has confirmed a grant of £10,000 to help pay for running costs, including electricity bills and wages for two employees.
And the service has been told ongoing support is being considered.
Foodbank secretary Marjorie Clark said: "We are absolutely delighted. We had some positive talks with the council before Christmas and it's good that they have now seen their way to offering us this assistance."
She said: "We were looking at making a loss of between £6,000 and £8,000, so to get £10,000 in this financial year, is a fantastic help.
"We are no longer under threat of closure, that threat has been lifted."
Although there were discussions about moving into cheaper premises, the donation will help the service stay at its Cutlog Vennel base, next door to revamped Perth Theatre.
"The accommodation we have is in many ways ideal for us," she said.
"There's plenty of space for storage and, although we are in the city centre, it is quite discreet. We're not looking at any other accommodation."
She said the service had also struck a new deal with landlords, reducing the rent from £14,000 to £12,000.
The foodbank, which distributed more than 3,400 three-day food packages to people in crisis last year, has also received donations from local groups and businesses.
However, the cash boost comes at a sad time for the service, as its says goodbye to one of its founding members.
Les Paskin died after a long battle with health problems.
Ms Clark said: "Les was committed to the foodbank and our sympathies go out to his wife Pat and the family at this sad time."
The £10,000 grant comes from the council's Community Justice and Inequality Fund.
Council depute leader Murray Lyle said: "Perth and Kinross Foodbank benefits vulnerable residents of Perth and Kinross when they are facing a difficult time in their life.
"I'm pleased that the council has been able to identify appropriate funding to support them to continue this work. We are considering how the council can support the foodbank going forward."
Meanwhile, youngsters from St John's Academy Nursery in Perth have been learning about the foodbank as part of Unicef's Rights Respecting Schools campaign.
P1 and P2 pupils packed donations for the service during a session at the North Inch Community Campus on Tuesday.