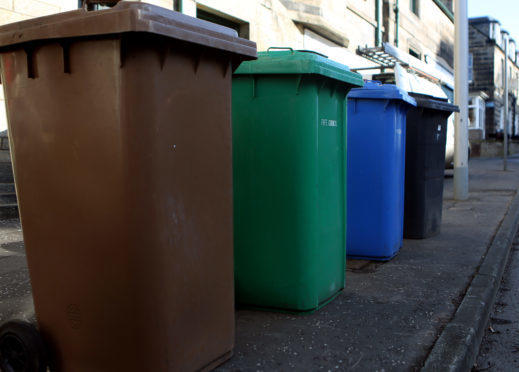 Perth and Kinross Council is facing a revolt from tenants over its controversial garden waste permit.
Tenants in the North Muirton area of Perth have been cutting the grass outside their homes since the local authority axed its fortnightly maintenance service.
They say they are "furious" after being advised they will have to stump up £25 for the use of a brown recycling bin to dispose of the cuttings.
Adrian Owen, 54, said he would refuse "point blank" to pay the so-called bin tax when it comes into force on April 1.
"I, like many other council tenants here, cut the area of grass at the property to make sure it's maintained," he said.
"We had to cut the grass as the council stopped doing so around four years ago. The area is roughly a 20 sq m section which every tenant has here.
"However, it now seems that if we cut the grass we will have the privilege of paying £25 to the local authority for the use of the brown bin to dispose of grass cuttings – it is absolutely scandalous."
He added: "Scores of people in North Muirton are furious at this decision. It's just cost cutting to subsidise the council."
"Lots of people have told me they won't cut the grass – they'll just leave it to become a health hazard."
Irate North Muirton tenants vented their rage on social media.
Graeme Hughes said the proposal was "hypocrisy at the highest levels".
Yvonne Paterson said cuttings from council-owned land made up half of the grass in her brown bin, adding: "we should get a discount from the garden waste charge".
A spokesman for Perth and Kinross Council said: "Council officers have been in touch with North Muirton community council and discussions are currently ongoing.
"The open space at the front of properties in North Muirton was previously maintained on a fortnightly basis by the council. However, the cut grass was not uplifted but left in place to break down and fertilise the growing grass underneath."
He added: "The maintenance of front gardens is now undertaken by tenants and owners in North Muirton, with the way in which the maintenance is undertaken left to their discretion.
"In the current economic climate, councils must make difficult financial decisions."
The spokesman said the decision on the garden waste charge had been agreed since February 2017.
"Not all householders in Perth and Kinross have access to the garden and food waste uplift service, due to the costs associated with operating the service over such a large geographical area," he added.
"The chargeable garden waste service will only be available to households who currently receive a brown bin service."