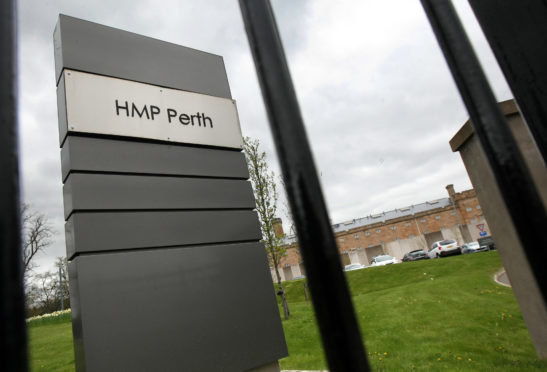 Inmates at Perth Prison are devising "increasingly ingenious" ways to try to hide illegal drugs and mobile phones, a politician has claimed.
Murdo Fraser, a Scottish Conservative MSP for Mid Scotland and Fife, was commenting on statistics provided by the Scottish Prison Service (SPS), which reveal prisoners smuggled contraband into the building, including by mail or through visiting relatives or friends.
The details, requested through the Freedom of Information Act, show the largest proportion of drug recoveries at the prison between 2014 and 2017 were made in inmates' cells, with many discoveries also made on prisoners themselves.
The statistics also show most mobile phone recoveries were made in prisoners' cells, with a sizeable number found in inmates' property.
Drug recoveries at Perth Prison rose from 136 in 2014 to 173 last year. Mobile phone recoveries at the site also increased from 23 in 2014 to 43 in 2017.
The figures show 82 drug recoveries were made in prisoners' cells in 2016, with 49 drug finds on inmates themselves.
The cell finds fell to 59 in 2017, but drug recoveries found on prisoners last year increased to 62.
Alarmingly, 34 drug finds were made in mail destined for prisoners in 2016, with 22 such discoveries the following year.
Some of the drug recoveries – 20 in 2016 and 13 in 2017 – were made in the visiting area of the prison, when relatives or friends of prisoners had attempted to smuggle drugs in to the Edinburgh Road building.
Four drug finds were made in the grounds of Perth Prison in 2017. A SPS spokesperson said these consisted of either contraband that had been thrown over prison fences or inmates throwing drugs out of their cells before being searched by officers.
The largest proportion of mobile phone discoveries were in prisoners' cells – 21 in 2016 and 16 in 2017, with five in 'prisoner property' in 2016 and 12 discovered last year.  This consists of property that belongs to a prisoner and is stored within their cell.
The findings have been criticised by Mr Fraser, who said they showed inmates are finding "increasingly ingenious" ways to hide contraband in Perth Prison.
"Ultimately, preventing drugs and mobile phones getting into prison is incredibly important and the upward trend in recoveries underlines the proactive action prison officials are taking at Perth," he said.
"Nonetheless, prison officers can only do so much and perhaps it's time to toughen up the penalties for prisoners caught with contraband in order to reduce the number of those willing to take this risk."
A SPS spokesperson said Perth Prison was doing all it can to clampdown on such incidents.
"A comprehensive range of robust security measures are in place to prevent the introduction of contraband into our prisons," she said.
"Significant investment continues to be made in the development of new technology and staff training to detect, deter and reduce the availability and supply of illegal drugs.
"Anyone found in possession of contraband is reported to the appropriate authorities."