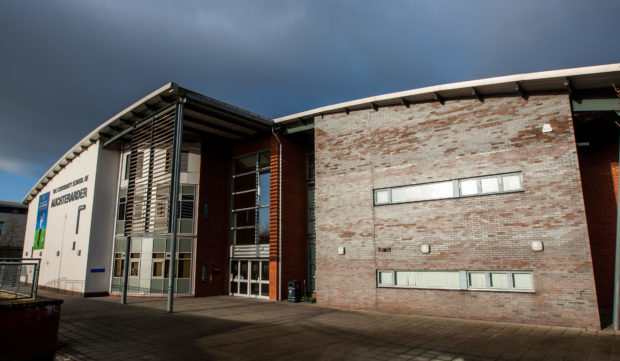 Council bosses have apologised after a Perthshire school's social media account "liked" a lewd image of a scantily clad model.
The dodgy Tweet outraged parents and sparked a probe among senior staff at the Community School of Auchterarder.
Perth and Kinross Council said it believes the account was "hacked".
The post appeared earlier this month, when snowbound schools across the region were closed and staff were encouraged to work from home.
Teachers were using the Twitter account at the time to share homework and revision with students.
The investigation comes as head teacher Stuart Clyde prepares to leave Auchterarder to take up the reins at Scotland's newest secondary school. Mr Clyde will be installed as head at Perth's new £32.5 million Bertha Park academy next year.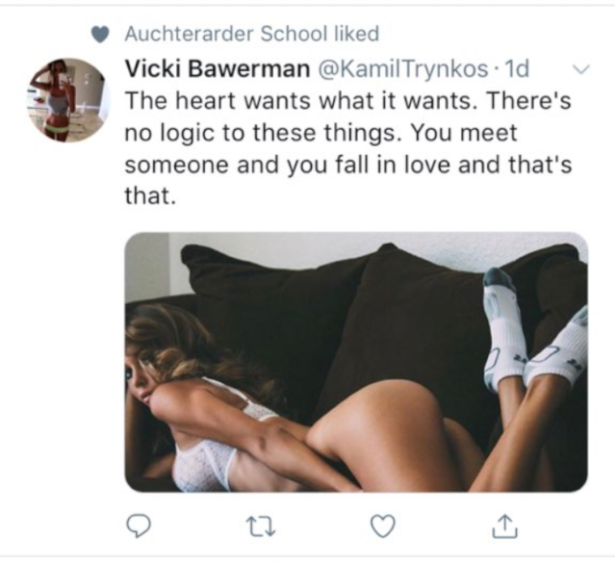 The Auchterarder school's account, which was set up to keep the community up to speed with pupils' news and achievements, promoted a Tweet supposedly posted by model "Vicki Bawerman" showing a woman lying on a couch wearing only a bra and white socks.
A screenshot of the offending tweet was shared online by disgusted parents. It is understood the image was also printed out by pupils and posted on the wall of a school toilet.
At least two parents have complained to the local authority.
One local mum, who asked not to be named, said: "It was worrying to see this sort of thing being promoted from the school's own account.
"The children use this a lot and were using it during snow days to check on homework and things."
She said: "The vast majority of the staff are female and they won't be happy about this."
The image, thought to have been generated by a Twitter "bot" was accompanied by the bizarre message: "The heart wants what it wants. There's no logic to these things. You meet someone and you fall in love and that's that."
Although the post was not shared, it could still be seen by the school's Twitter followers, as something "Auchterarder School liked".
A council spokeswoman said: "We are aware that there was inappropriate activity on the official Community School of Auchterarder Twitter account earlier this month.
"We understand that the account was hacked."
She said: "The inappropriate activity was deleted quickly after it was discovered, and passwords reset. We apologise for any offence caused."
The school has been asked to review the way it stores passwords and look at who has regular access to online accounts. Twitter has since suspended the "Vicky Bawerman" account.