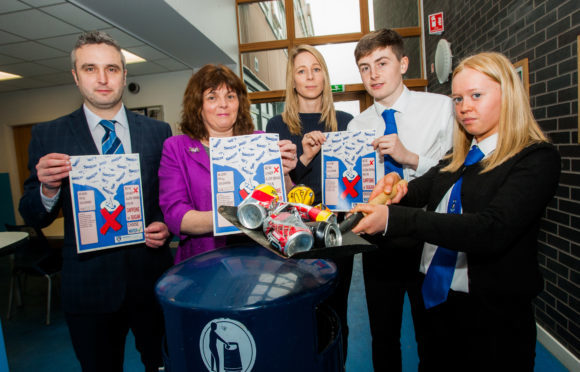 A Perthshire secondary school has announced a blanket ban on caffeine-loaded energy drinks.
Blairgowrie High hopes that by outlawing brands like Red Bull and Monster, pupils will see major health benefits and be able to concentrate during lessons.
The school is also banning bottles of fizzy and sugary drinks larger than 500ml. Letters to parents say any of prohibited cans and bottles will be confiscated and binned.
Last year, The Courier launched its Can It campaign, urging local schools to crack down on caffeine-based fizzy drinks.
The ban at Blairgowrie, which comes into force on April 16, coincides with a "Think 25" policy on energy drinks being introduced by supermarket giant Tesco.
The move will be closely monitored and, if successful, other schools in the area could follow suit.
Head teacher Bev Leslie said: "The health and wellbeing of staff and pupils at Blairgowrie High School is extremely important to us, and the negative impact of consuming drinks with a high sugar or caffeine content is well documented.
"With the support of our parents, local businesses and our pupils, our ban is one of many steps we are taking to improve physical health and mental wellbeing."
She added: "We are currently consulting with all pupils, parents, local clubs and the public to draw up our five year plan to ensure we are supporting all aspects of wellbeing."
In a letter home to parents, depute head teacher Andrew Dingwall said: "From research, including work by the NHS, Food Standards Agency and others, we know that drinking highly caffeinated and/or sugary drinks can adversely affect the health of young people and their ability to concentrate and learn throughout the school day."
He urged parents to back the ban and reinforce the health message at home. "Your support will be crucial in our success," he said.
Local Conservative councillor Caroline Shiers, who is convener of the authority's lifelong learning committee, said: "Decisions like this are not taken easily and I am sure that the senior management team at the school will be keeping parents fully appraised of these changes as parents have an important role to play in encouraging their children and young people to make health choices.
"I will also be very interested to hear about the effects of banning of these drinks at Blair High. I would very much hope that, as all the evidence suggests, there will be a positive effect on the behaviour and wellbeing of young people throughout the school day and also their longer term health."
She added: "The health and wellbeing of young people and the links to diet and physical activity are important and I look forward to hearing updates."