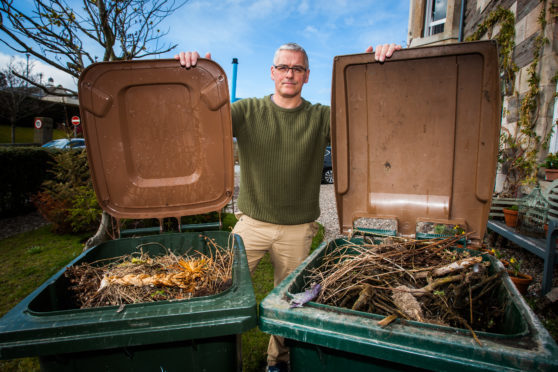 A Perth resident is irate after being told he will not be getting his two brown-lidded bins uplifted, despite paying for the required permit.
Alan Donaldson, 48, of Western Avenue, said his two garden recycle bins are both "full to the gunnels" but claims Perth and Kinross Council told him staff will not collect them this weekend as he has not received his permit.
From April 1, only those displaying a permit attached to their brown-lidded bin will have it uplifted. The permits cost £25 each per year.
Mr Donaldson concedes he did miss the March 5 payment "cut-off" by a week but feels the local authority should not have taken his money if they were going to delay posting the necessary document.
"I find this whole thing scandalous," he said.
"I've contacted the council to ask when will they uplift my two brown bins but have been told they definitely won't do it on Sunday as I don't yet have the permit. I know I missed the cut-off date but I've still paid for the permit for the two bins so feel I am entitled to have my garden waste collected."
He continued: "The council employee I spoke to on the phone told me part of the problem was the permits have been produced by a company outwith Perth and Kinross so this causes delays when posting them out. She told me it was difficult to pinpoint exactly when I will receive the permit.
"The issue is nonsense as you have the council sitting on all this money, earning interest, yet some people like me don't have their permit. I reckon the local authority is making around £37,000 per week off the garden permits, which is around £100,000 per month."
A council spokesperson said: "As clearly stated in the information issued to householders, customers whose payments for brown lidded bin garden waste permits were received by the March 5 deadline will be issued with their permits in advance of the service start date of April 1.
"All applications received by March 5 were dispatched on March 20. The terms and conditions, agreed at the time of purchase, state that for payments received after the deadline date, the council will aim to deliver the permit to the applicant within 21 days.
"Only bins displaying a valid garden waste permit should be presented containing garden waste after April 1."
The bin tax has caused fury among many residents with an online petition opposing the controversial move recently being signed by more than 1,000 people.