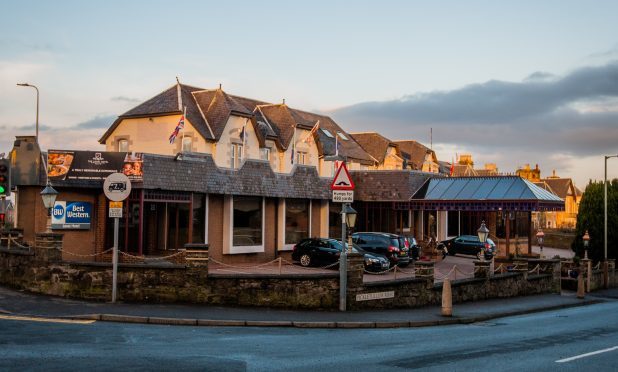 A crisis-hit Perth hotel which closed suddenly, placing couples' wedding plans in jeopardy, will be resurrected next week.
The landmark Lovat Hotel shut without warning with the loss of 50 jobs in January.
Manager Stuart Shearer was accused by trade union bosses of "complete incompetence" for apparently going into hiding after issuing his workforce with terse notes stating: "Any member of staff in possession of this letter has been made redundant with immediate effect".
Today, The Courier can reveal that owners of the Glasgow Road establishment are investing £250,000 into the building ahead of a low-key relaunch next week.
And scores of staff who lost their jobs are returning to the hotel, under new manager Leonard Johnstone.
Work has started on the venue's biggest overhaul in decades. Bosses have revealed they are scaling back on large-scale wedding bookings and plan to transform the function hall into a family restaurant.
Edinburgh-based Alfredo Alongi, a member of the owning family, said he was encouraged to revive the hotel after talks with former proprietor Gordon Blair.
"I was thinking about changing the name of the hotel, to give us a fresh start after all that bad publicity," he said.
"But Gordon persuaded me to keep the name. The Lovat really means something to the people of Perth. They are passionate about it and it's that passion that I want to put back into the hotel.
"We're pleased so many of the old staff are coming back. They have been really loyal to the hotel. Some of them had already accepted jobs in other places, but wanted to come back and work here.
"Without them, the Lovat wouldn't be the place it is."
He said: "When we got the keys back and got inside, we knew the place needed more than just a new coat of paint. It needed something quite radical to bring it back to life."
The new 150-seater restaurant will have a musical theme, with instruments hanging on the walls and from the ceiling. A large pizza oven and childrens' playroom are also being introduced.
Mr Alongi has also revealed that the hotel has parted ways with promoters Best Western.
Mr Johnstone, who previously worked at Perth's Queen's Hotel, said: "It's an exciting time for the Lovat and its great that so many of the team are coming back. We're looking forward to re-opening."
The re-launch has been welcomed by local SNP MP Pete Wishart who was contacted by distressed couples and staff members in the aftermath of the closure.
"I am pleased to see that the Lovat Hotel is to reopen next week and that many members of staff who previously worked at the hotel will take up their positions again, " he said.
"The Lovat is a well-used hotel and it has been disconcerting to see the car park empty for so long. I look forward to seeing the hotel busy once again."
Mr Shearer's company SLE Enterprises went into liquidation in February, owing money to brewery Tennent's amongst others.