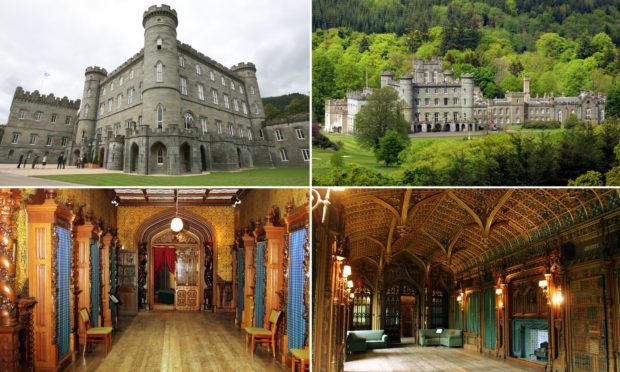 The company behind plans for a "world-class" hotel at an historic Perthshire castle is facing collapse.
Rebus Construction, the main contractor in the chequered Taymouth Castle project, has been threatened with dissolution by Companies House following an HMRC tax probe.
It comes after four people who maintained the estate for the company lost their jobs.
Rebus Construction, which lists Taymouth Castle project leader Clynt Wellington as its sole director, could be dissolved and struck off within weeks, with all of its properties and rights claimed by the Crown.
The castle was recently bought by Mount Two Ltd, an offshore firm led by Mr Wellington.
The Courier understands a group of private investors, who are bankrolling the restoration project, are now in talks with Mr Wellington about taking over the hotel.
A source close to the estate confirmed that work refurbishing the castle's rooms had ground to a halt. It is understood Mr Wellington has already rejected at least two offers to buy the castle in recent months.
Previous owners Meteor Asset Management spent about £23 million refurbishing the A-listed building, which was famously visited by Queen Victoria and Prince Albert.
Last year, Mount Two received planning consent for more alterations to the property.
Archie McLaren was one of four people who lost their jobs at the estate in January.
He is now taking Rebus to an employment tribunal, despite the company's claims that he was self-employed.
Mr McLaren said he was tasked by previous operators Farnham Development to help maintain the estate, although not the castle.
"When they went bust in 2012, we were told to continue working as normal. We were always paid every month and our taxes were always deducted."
He said: "But we never received payslips or P60s. We spent five years asking for them, and eventually went to HMRC to get them."
Mr McLaren said HMRC then investigated Rebus and were able to establish he was an employee – a claim the company has always contested.
Mr McLaren's employment lawyer Alison Forsyth, of Forsyth Employment Law, said dates for a hearing were still be scheduled.
"We have had to establish that Mr McLaren was actually employed by Rebus, and not self-employed," she said. "We have had to look at how he was paid, who paid his wages and whose equipment he used to carry out his work."
The restoration of Taymouth Castle has been backed by more than 70 investors, who have been described as co-owners.
In a submission to Perth and Kinross Council planners, agents for Mount Two said the internal alterations were "critical in terms of the new investor's business plan to ensure the castle renovation and operation is financially viable".
No one from Rebus Construction, Mount Two Ltd or from Mr Wellington's office could be reached for comment.
Chequered history of changes at estate
Taymouth Castle has seen various plans for development submitted to the council since 2005.
In March 2005, Taymouth Castle Estates Ltd were granted permission for a plan which proposed to build 72 hotel suites, a spa, 63 lodges, 26 fractional ownership houses and an equestrian centre.
During 2005/2006, eradication of rot and stabilisation of the building took place as well as replacing the roof and the installation of new windows in the main tower and west wing.
And non-structural timer partitions were removed at this time.
In June 2011, a plan submitted by Meteor Asset Management to build 89 estate properties, 14 hotel suites and a spa was approved. Further internal 
partitioning was begun but not completed to the second and third floors of the main tower.
Internal partitions were removed in the second floor.
In February 2015, a plan lodged by Barrasford and Bird to transform 13 hotel rooms was permitted but it is understood work stalled on this due to 
financial problems.
This month, a mystery owner submitted plans to create 23 smaller hotel bedrooms at the castle. This has been passed by the council under delegated powers.