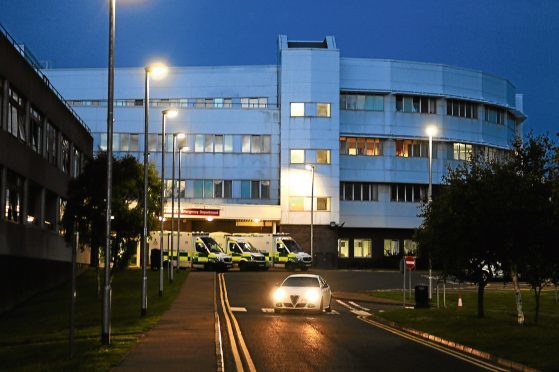 A teenager who spends nine hours a day in PRI so she can "eat" is to be seen by specialists in Glasgow after being "abandoned" by Dundee doctors.
Caitlin White said she had been "left to die" by Ninewells Hospital in Dundee after medics discharged her and refused to offer any further treatment following attempts to insert feeding tubes, including one which left her fighting the potentially deadly blood infection septicaemia.
She will now be treated by colorectal surgeon Dr Ruth McKee, who operates at Glasgow Royal Infirmary following the "intervention" of her local MSP Roseanna Cunningham.
The SNP cabinet secretary for the environment, climate change and land reform said she had helped her constituent cut through "daunting" "red tape and bureaucracy" and hoped a new outcome could come about for Ms White.
Ms White, who lives with her grandparents in Perth, struggles to absorb sufficient calories and suffers excruciating abdominal pain as a result of gastroparesis, a condition which means her stomach is partially paralysed.
It has led her to develop cyclical vomiting syndrome, meaning she is often sick more than 30 times a day, and she is so weak she needs a wheelchair outdoors.
The 19-year-old attends eight to nine hours a day treatment at Perth Royal Infirmary (PRI) where she receives infusions of potassium, magnesium, iron and phosphate to keep her alive, but the hospital does not have the specialist expertise to prescribe artificial feeding.
Since October last year, she has suffered five bouts of sepsis due to severe bouts of constipation which build up bacteria in her small intestine.
In an interview with the Herald newspaper, Ms White said: "It's getting to the point I've become resistant to so many antibiotics that they don't know what they're going to do when it flares up again. I'm exhausted. I'm in a wheelchair.
"I have to eat and drink myself orally because Ninewells have refused to offer artificial nutrition since 2015 and my weight is dropping.
"PRI are very worried. We're at a stage where they said they don't think I'll be here in six months unless we get a proper care plan in place."
However, her constant vomiting and a condition called Ehlors Danloss syndrome, which means Ms White's muscles are abnormally slack, meant the tubes came loose – sometimes within hours of surgery.
She also underwent Total Parenteral Nutrition (TPN), where protein, glucose and other nutrients are pumped directly into a patient's bloodstream, but this was stopped when she developed septicaemia in March 2015.
When a fourth bid to feed her via an abdominal tube failed in June 2015, she said doctors at Ninewells "gave up".
She said: "They took the tube out and the consultant at the time said 'go home, try the oral route, we can't do anything else for you'. That was it.
"I asked numerous times about the stomach pacemaker but it was never mentioned again."
Roseanna Cunningham MSP said: "I am pleased for Ms White that, following representations I made on her behalf, she is being referred to Dr Ruth McKee in Glasgow, a leading specialist in the field.
"Now, Dr McKee may very well decide that there is nothing further to add to the care and advice that Ms White has been given in Tayside, but when a constituent comes to me, I do my best to help them.
"A key role for MSPs is to help constituents have their voices heard or their point made – it can often be daunting dealing with red tape and layers of bureaucracy and I hope I have been able to achieve that on this occasion."
A spokeswoman for NHS Tayside said: "Due to patient confidentiality we cannot comment on individual cases."