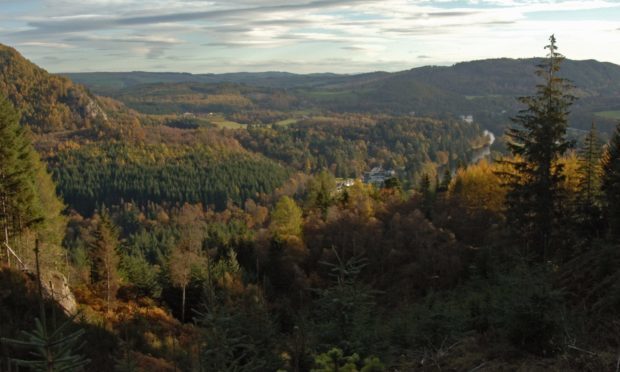 Forestry bosses have defended the use of controversial chemicals to protect young trees across Tayside.
Incesticide Gazelle, also known as Acetamiprid, is being used to defend new forests from pine weevils.
But some campaigners say the chemical compound is hazardous to the environment and are calling for it to be banned.
Concerns were raised about its use in Tayside — along with another chemical Alpha Cypermethrin — by Rachel Watt, a forestry contractor of 35 years who campaigned against Gazelle in Mull.
Following the campaign, Forest Enterprise Scotland (FES) — which manages the country's forest estate — agreed not to use the chemical without carrying out a consultation with the local area first.
"These are powerful insecticides," she said.
"These are highly toxic not just to pine weevil, their target, but all other inspects, all aquatic life and moderately toxic to mammals."
She continued: "If you see any white bags labelled Gazelle, do not open them or let your dogs or children near them."
Ms Watt has argued for alternatives to Gazelle to be further explored and funded, pointing out that some non-chemical treatments can work out cheaper.
A spokesman for the Scottish Government-backed FES said: "Acetamiprid and alpha cypermethrin have been subject to extensive safety reviews by the European Commission and Health and Safety Executive and are judged not to pose an unacceptable risk to consumers, operators, bystanders and the wider environment if applied correctly.
"Pre-treated trees are treated in a highly controlled environment, reducing the risk to operators and the environment."
He added: "These insecticides are used as a proactive measure by foresters to protect newly planted trees from weevils. If left untreated, weevils can kill young trees, often destroying about 50 per cent of a newly planted woodland.
"In a heavily infested site, often in places where restocking is taking place, a whole woodland of newly planted trees can be devastated."
The spokesman said: "It isn't our policy to use insecticides on a blanket basis on every site. We decide on a case by case basis.
"As with the case were these trees have been used in Tay Forest District, the weevil populations have been judged to be very high, so we have acted accordingly and used the insecticides to protect the trees."
Gazelle is part of a family of five insecticides known as neonicotnoids, three of which have been banned by the EU.
Donald Maclean of the Forestry Contracting Association, the industry's leading trade group, believes it's just a matter of time before Gazelle is banned too.
"Our concern is more about the workers' and operators' safety," he said.
"Big forestry organisations will try to give the impression that this is a necessity for the industry going forward.
"But the truth is there is a significant cost associated with the use of alternative techniques."
He continued: "There is nobody who will dispute that these chemicals can be harmful, they are all recognised as hazardous.
"Sooner or later they are going to be told to stop using the stuff anyway, and what are they going to to do then?"