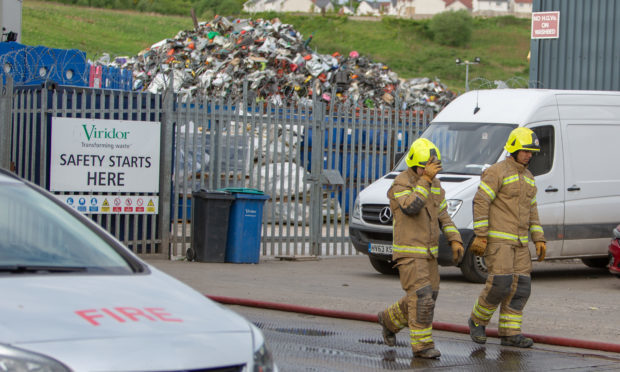 Mobile phone batteries are believed to have sparked a six-hour inferno at a Perth industrial estate.
Fire crews were scrambled to the Viridor recycling plant in the early hours of Tuesday morning.
Huge mountains of recycling material were well ablaze when appliances arrived on the scene.
At the height of the operation, seven crews – about 35 firefighters – were battling the blaze using hose reel jets, breathing apparatus and a high volume pump, taking water from the nearby River Tay.
The fire was brought under control just after 6am, but teams remained on the scene throughout the morning to dampen down the smouldering heaps and check for remaining hot pockets.
Speaking from the scene, watch manager Vincent O'Donnell said: "The fire was going strong when we arrived.
"We managed to contain it in the yard and keep it from spreading to neighbouring buildings and businesses."
He said: "It took until about 6am to bring it under control, but we stayed on site for a bit longer to make sure it is fully extinguished."
Police Scotland has confirmed that the fire was not suspicious. The Friarton Bridge, above the premises, was kept open throughout the incident, but drivers were warned to pass with caution.
Viridor's Perth base is described as one of the most sophisticated waste electrical and electronic equipment (WEEE) plants in the UK.
It is the only fridge plant in Scotland and is used by councils from across the country.
A spokeswoman for Viridor said: "No staff were injured and there is no risk to public health.
"The Scottish Environment Protection Agency has been notified and has visited the site."
She said: "Viridor understands the fire began at around 12.45am and was under control with no visible flame at 3am when the fire service continued to damp down the affected material and monitor it.
"The fire began and was contained within the yard of the WEEE facility and, while the cause of this incident has not been identified, waste site operators know that it is most likely attributed to lithium ion batteries.
"These batteries are the main cause of waste site fires. They are commonly found in a variety of products, including mobile phones, toys, cameras, eCigarettes and laptop computers. Viridor asks people to responsibly dispose of these batteries at household waste recycling centres."
The company said the site was operating as normal.