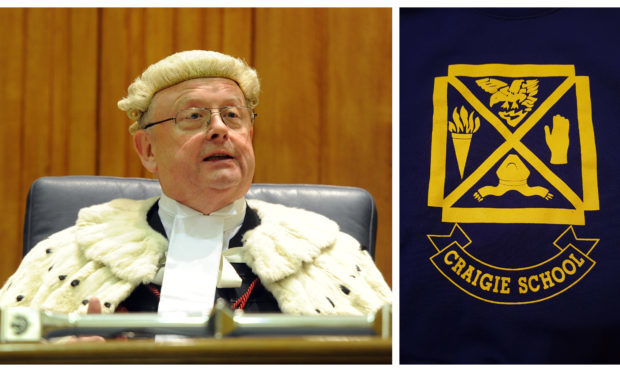 Perth children who feared they would have to raise almost £2,000 to fight a legal dispute over their school logo have been told they will no longer have to stump up.
Craigie Primary found itself at the centre of a heraldry battle with the country's Lord Lyon King of Arms over the school crest.
The pupils were told they would have to raise £1,800 to keep the badge after learning they had broken an ancient law on heraldic design by failing to register it as a coat of arms.
However, Perth and North Perthshire MP Pete Wishart has now received a pledge from the Lord Lyon that the charge to register the school logo will not be enforced.
A letter sent to Mr Wishart by the official, who is responsible for heraldry in Scotland,  said "at no time was any enforcement of the law discussed".
It also reveals he plans to personally visit Craigie to explain his role to pupils and staff.
Mr Wishart said: "I am pleased that the Lord Lyon has intervened to bring some balance and reason to this matter.
"I am delighted that he wishes to visit Craigie Primary School to put the minds of staff, parents and children at rest. He has made its clear that he has never made any decision about any enforcement.
"I now hope that Craigie Primary pupils can now wear their badges with pride and without any concerns about their status. I look forward to visiting the school with the Lord Lyon in the near future."
Perth pupils told to raise almost £2,000 for school crest following legal dispute
Under the Lord Lyon King of Arms Act 1672, any organisation with a badge classed as "a heraldic device with an outline" must register its shield of arms with the Public Register of Arms and Bearings in Scotland, for a fee.
A shield with a school's initials would not be considered heraldic, but if it contained, for example, a lion rampant it would require approval.
Craigie staff first alerted families to a potential problem earlier this year.
Parents were surveyed and asked if they wanted to avoid the bill by changing the design of the school crest for future use on uniforms.
They voted overwhelmingly in favour of keeping the current design and pupils were told they would have to raise the cash themselves.
Head teacher Lesley Gibson told parents: "Our legal team have been fully involved in supporting us through discussions with Lord Lyon's office.
"We are pleased to let you know that we can still use any item that already has the logo on it – e.g. sweatshirts, book bags, headed notepaper etc – we just cannot order new items displaying the logo, until the registration fee is paid."
Nobody from Perth and Kinross Council's education department was available for comment.