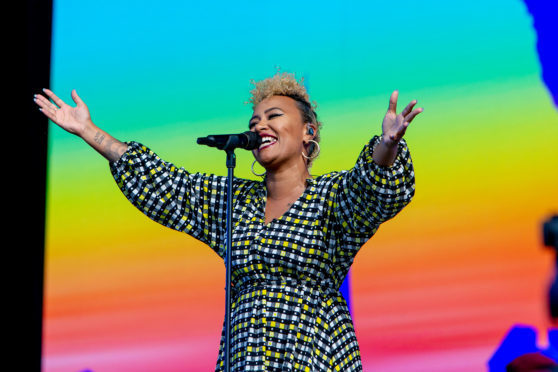 Scottish singer Emeli Sandé is to perform in Perth for the second time in a month.
The multi-award winning star played at the Biggest Weekend in Scone Palace at the weekend and has already signed up for a second event in the city.
The Next to Me singer, from Aberdeen-shire, is to headline at the Youth and Philanthropy Initiative (YPI) 20th anniversary celebration later this month.
It is Scotland's largest youth gathering and will welcome more than 1000 young people to Perth Concert Hall on June 20.
Emeli will perform a special acoustic set on the night and share an insight into her own charity work.
She said: "It is an honour to be invited to attend and perform at the YPI 10th anniversary event and to share the room with so many inspiring young people making a difference in their communities.
"I'm looking forward to hearing about the journey of YPI and the great platform it provides to empower young people and equip them with the skills, attitude and outlook needed to thrive and contribute in the 21st century."
The YPI programme, the flagship programme of the Wood Foundation, began as a pilot in 10 schools in the north east of Scotland and is now active in 230 schools in all 32 Scottish councils.
Each participating school is given an annual grant of £3,000 to help a local charity through teamwork and research.
Comedian, motivational speaker and Britain's Got Talent star Anna Devitt will also take to the stage, alongside Chelsea Cameron, whose positive open letter to her drug-addicted parents went viral last year.
Edinburgh-born singer-songwriter Callum Beattie will perform at the event and more than 30 young people will share presentations about YPI.
Wood Foundation chairman Sir Ian Wood said: "We are honoured that Emeli Sandé will join us as we mark the accomplishments of a decade of YPI here in Scotland.
"Her musical and humanitarian achievements are sure to inspire the young people to continue on the philanthropic journey they started with YPI.
"As an active citizenship programme, YPI often acts a catalyst for young people as they shape who they want to be and what they want from life. It has also had an incredible impact in terms of support for grassroots charities and youth engagement with these important causes.
"What has been accomplished by these empowered young people within their communities this year, and over the past 10 years, is truly heartening and our national event is a fantastic way to celebrate their collective success."