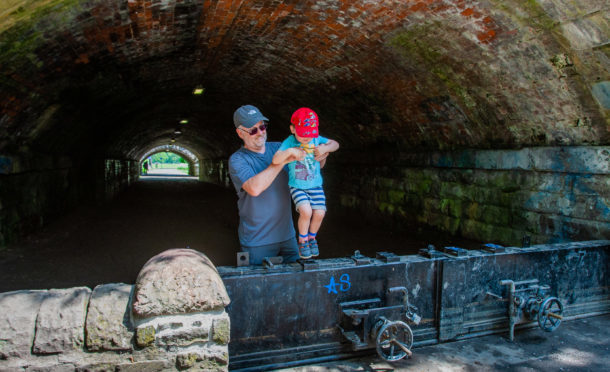 Residents have been left angered by the underfoot conditions on a path beside one of the city's flood defences.
The local authority decided to close the flood gates at Craigie Burn until Monday following a weather warning that Perth could be hit by a deluge of rain at around lunchtime on Saturday.
However, the expected thunderstorm and rain did not occur, with the hot weather instead leading to scores of people trying to walk through the South Inch underpass near the Craigie Burn, only to find they had to navigate a flood defence gate and then endure muddy conditions on the other side on their way to the park.
Willie White, a local businessman, who was walking on the path on Saturday with his grandson, Adam White, aged 3, said he feels something needs to be done to address the situation when the flood defences are in place.
"In the short time we were there, there were three pushbikes, one pram had to be lifted over the flood defence gate and one lady actually fell in the mud," he said.
"I would like to suggest a couple of steps either side of the wall at the food defence would make a huge difference."
There were several incidents of street-level flooding following brief, heavy rainfall on Friday.
A council spokesperson defended the decision to close the flood defence gates at Craigie Burn but said no one was available to comment on the state of the path.
"The Met Office had told us Perth could be badly hit by bad weather from 11am onwards on Saturday so the flood defence gates were closed at Cragie Burn as a precaution," she said.
Liberal Democrat Councillor Willie Wilson, whose Perth City South ward includes Craigie, also backed the council in their decision.
"Often in cases of severe weather warnings the council takes the precautionary measure to close flood defences, and this is what happened at Craigie Burn," he commented.
"We have had experience of flash floods before and there was a yellow weather warning in place for the area, so the reality is the council had to do this."
The Scottish Environment Protection Agency (SEPA) confirmed "surface water flooding impacts" were possible across most of Scotland on Saturday.
"However, the location and extent of the heaviest rainfall was uncertain and some areas would have missed the heavy showers and thunderstorms," she said.
A £25 million flood defence scheme was rolled out along the River Tay and other water tributaries in Perth in 2001. This followed severe flooding in the city in 1999.