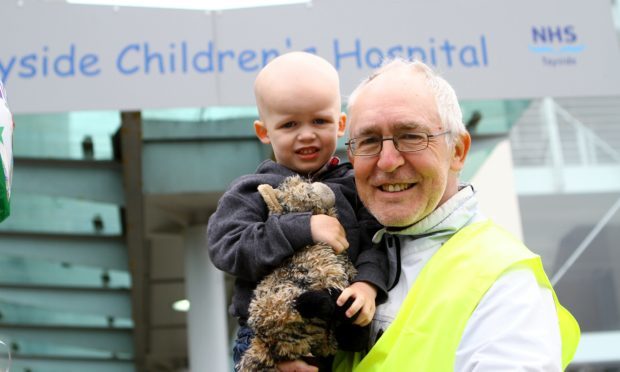 A doting grandfather has been reunited with his family after a punishing 300-mile charity cycle from Tyneside to Tayside.
Retired radio host Jon Farle's epic ride was inspired by two-year-old grandson Ezekiel King, who was diagnosed with cancer earlier this year.
Jon ended his four-day journey on Friday morning at Ninewells Hospital in Dundee, where Ezekiel is receiving chemotherapy treatment.
The 60-year-old wanted to raise money for Tayside Children with Cancer and Leukaemia (TCCL) after the charity stepped in with a £500 donation to support Ezekiel's parents Katy and Stephen from Kinross.
Jon, who set off from his home in Tyneside on June 4, has smashed his target of £2,500, raising more than £7,000 so far.
"It has been a tiring and emotional experience in the very literal sense," he said.
"It was certainly physically demanding but my aches and pains will go away fairly quickly.
"Its the children like Ezekiel who have to put up with much more for much longer."
He said: "I have been really struck by how generous and kind people have been to me.
"People have asked me about my journey and just handed over money on the spot," he said.
"It was remarkable. The woman at the Bed and Breakfast where I stayed in St Andrews last night said she didn't want money for the room, instead she wanted me to give it to the charity."
He said: "It was great to come back to Ezekiel and see his big cheeky smile.
"I have a photograph of him on my handlebars and whenever I was going up a steep hill, I would just look at his face and he would give me the inspiration to keep going."
He said: "Ezekiel is doing okay. He's going through chemotherapy which is very gruelling, but he is coping well."
Jon recently retired as a radio presenter with BBC Newcastle. Last year, he cycled from Newcastle to London to celebrate his 60th birthday, while raising more than £2,500 for the charity Send A Cow which helps farming families in Africa.