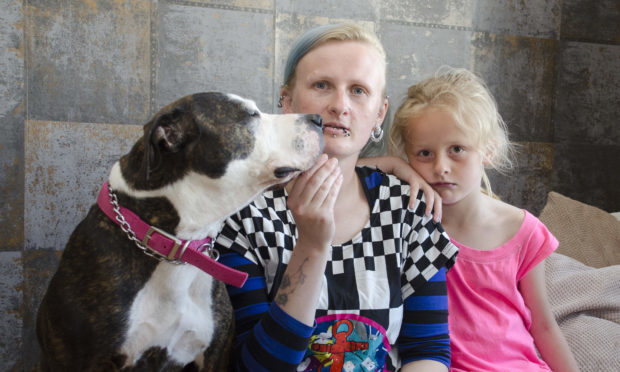 A dog owner has warned of the dangers of giant hogweed growing wild in Perthshire after her pet was left badly burnt during a riverside walk.
Leonie Leaver said her staffie-cross Katana returned with scabs on her chin after running through the toxic weed in the city's North Muirton area.
Ms Leaver, 34, said huge patches of hogweed had appeared in fields near her home in the Gislay Place area and at Woody Island.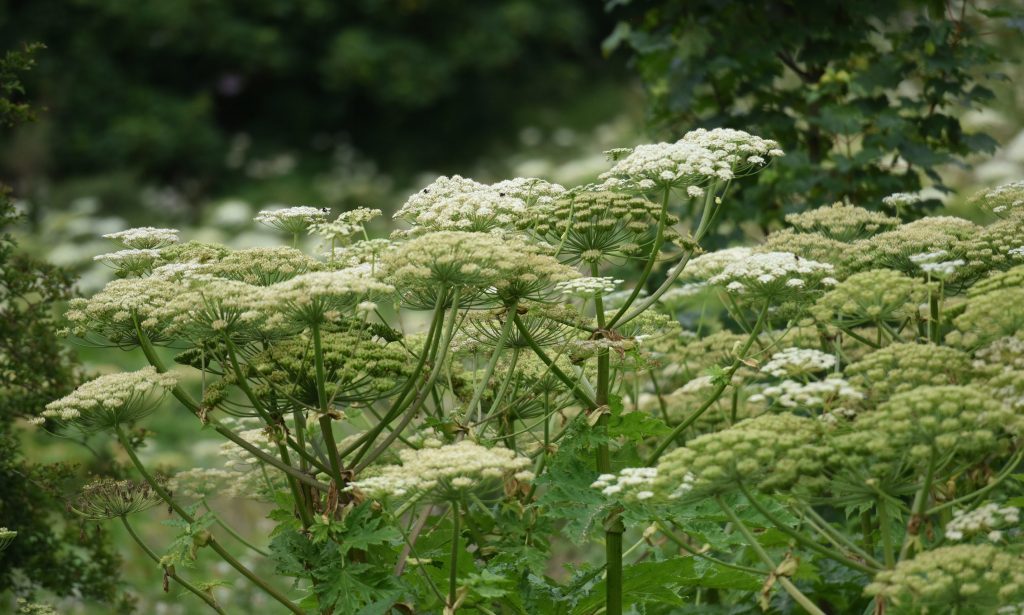 She reported the problem to Perth and Kinross Council officers, who told her they were unable to help because the weed is growing on privately-owned ground.
Now she is warning others to be extra vigilant.
"Katana is on the mend," she said. "Her chin is still really scabby, but she's started eating again and is playing with the other dogs."
Vets said she will need at least two weeks of treatment – including daily medication and ointment – before she recovers.
"Katana has sensitive skin, so it's not unusual for her to come back with a wee rash because she's been in the water too long or she's brushed up against something," said Ms Leaver.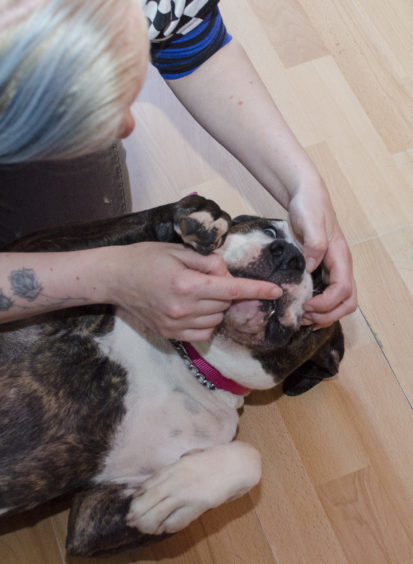 "Normally, a day or two of ointment and it sorts itself out, but this just kept getting worse and worse."
She said: "Then I remembered that someone I knew had burnt their hand with hogweed a few years ago and that had the same effect."
Ms Leaver said: "We always walk down towards the river and we've never had any problems like this. I grew up in North Muirton as a kid, but it's never been like this. It's getting ridiculous now."
She said: "The council said there wasn't much they could do because it isn't their land.
"But there's not even warning signs to let people know the plant is there. It's really worrying because there are always children playing down there in their shorts and T-shirts."
A council spokeswoman said: "We're very sorry to hear about Ms Leaver's dog.
"Contact with giant hogweed should be avoided wherever possible, as the sap contains chemicals that can cause photosensitivity and lead to skin blistering, pigmentation and scarring."
She said: "We can take action if the hogweed is on our land, and people can report this to us by calling 01738 476476 or emailing enquiries@pkc.gov.uk with the details of where the weed is.
"However, if it's on privately owned land, the responsibility for dealing with it lies with the landowner."
Advice on how to report hogweed is available on the council's website.