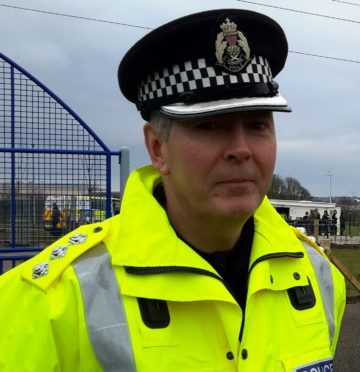 A police chief has underlined the importance of a firearms amnesty, describing it as being "particularly relevant" to Tayside and Fife due to its large rural area.
Chief Inspector Ian Scott, area commander for Perth and Kinross, was speaking before the launch of the National Firearms Surrender Campaign, which begins at 7am on Monday and will run for two weeks, finishing at 11.59pm on July 1.
The aim of the campaign is to remove firearms from criminal use. Residents who possess firearms, including shotguns, and ammunition for which they do not hold a valid certificate will be able to hand these over to the police.
In addition, people will be able to surrender replica firearms, BB guns, imitation firearms and bullets.
A previous gun amnesty, held in June 2016, resulted in more than 12,500 weapons being handed into police stations across Scotland and was deemed a great success.
Mr Scott explained why he thinks the move is vital to areas such as Perth and Kinross, Angus and Fife.
"This firearms amnesty is particularly relevant to Perth and Kinross where we have a large rural area where individuals may have historically have kept some form of weapon for pest control, or stored a gun in an out-building," he commented.
"They will now have the opportunity to have them safely dealt with as part of the surrender campaign, which is designed to improve public safety."
He continued: "As the campaign operates on an amnesty at the point of surrender of the firearm to Police Scotland, approval has been granted by the Lord Advocate to run the campaign during the stipulated time period only."
Mr Scott stated the terms 'surrender and amnesty' are often interchangeable but pointed out the difference between the two words for the purposes of the campaign.
"The term 'amnesty' exists only at the point of surrender of the firearm to the police and does not provide an amnesty for the lifetime of the firearm," he added.
This means that police will accept a firearm which is being handed in for disposal as part of the campaign and provide a limited immunity (amnesty) for possession of that firearm at the point of surrender – generally at a police station – or by pre-arranged collection from a home address.