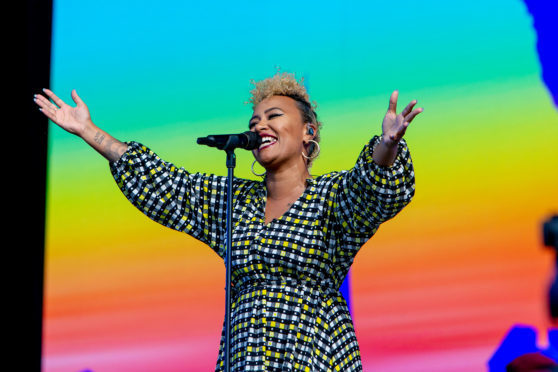 Superstar Emeli Sande joined hundreds of schoolchildren in Perth to celebrate a pioneering project which provides crucial cash support to charities up and down the country.
The Youth and Philanthropy Initiative, YPI Scotland, encourages secondary school pupils to explore pressing local issues and help secure funding to tackle them.
More than 1,000 young participants from across the country marked the end of this year's project with a gathering at Perth Concert Hall on Wednesday.
Chart-topper Sande, fresh from wowing the crowds at the recent Biggest Weekend festival at Scone Palace, performed an acoustic set and shared some insight into her own philanthropic activities.
The multi-award winner from Aberdeenshire praised the YPI project, which is now in its 10th year.
"This is a great platform which empowers young people and equips them with the skills, attitude and outlook needed to thrive and contribute in the 21st century," she said.
Youngsters were also treated to a talk from comedian and Britain's Got Talent star Anna Devitt. Singer-songwriter Callum Beattie also performed during the day-long celebration.
YPI Scotland was established by The Wood Foundation in 2008 with a pilot run of just 10 schools.
This year, more than 230 schools took part, raising nearly £700,000 for local and national causes.
Chairman Sir Ian Wood said: "Each school makes itself into about 30 or 40 teams. And in each team, they choose a charity, go visit it, and ask questions about how it works and what its problems and challenges are.
"Then they return to the school with their findings for a competition, where they deliver a presentation to a panel of judges. The winners receive £3,000 for their charity."
He said: "It means there are more than 230 charities across Scotland getting the benefit this year.
"What is even more important, is that the process gives children their first inkling that everything isn't necessarily correct in their community and there is actually a lot of problems that need to be addressed. It gets them thinking about what they can do to help.
"A lot of these kids get quite hung up on the idea and they go on to investigate other issues affecting their communities."
Sir Ian added: "What has been accomplished by these young people within their communities this year, and over the past 10 years, is truly heartening and this national event is a fantastic way to celebrate their collective success."